Jireh Baptist Church, Burnley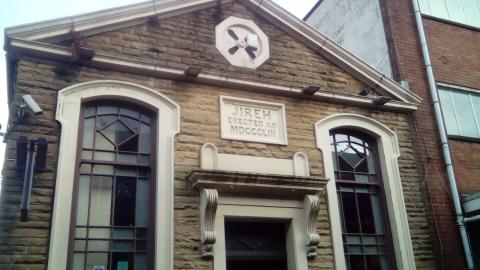 One of Burnley's panoply of pubs was once a chapel. Carved onto its date stone is the word Jireh, a strange-sounding word. It is ancient Hebrew and is usually suffixed to God's Old Testament personal name, Jehovah. Together, they mean 'The Lord will provide'.
Richer still is the place in scripture where it first occurs. In Genesis 22:14 we read "And Abraham called the name of that place Jehovahjireh: as it is said to this day, In the mount of the Lord it shall be seen."
Considering this was the place at which Isaac was bound and delivered by the Angel of the Lord by providing a ram caught in the thicket, John Wesley and Matthew Henry suggest that "perhaps it may refer to God manifest in the flesh."
Jireh was chosen to name this chapel, not just as a word of reassurance about paying bills and shodding our children, but of God's ultimate provision for our salvation- Christ Jesus. He is the Lamb of God, willingly caught in sin's thicket, that Abraham's sons might be unbound and released.