John Dale's Grief, John Dale's Hope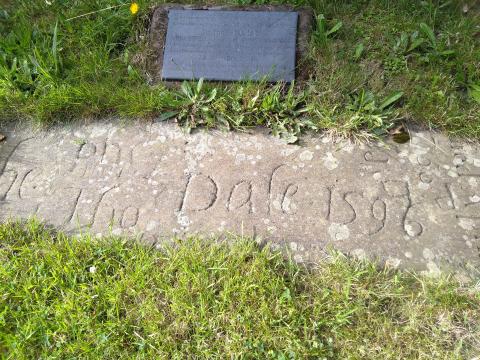 In the grounds of Wilmslow Parish Church is an unusually old gravestone. A neighbouring stone from the 1930s explains:
This rare example of a XVIth Century Gravestone
marked the resting place of children of PHELICE &
JOHN DALE
MINISTER of this CHURCH 1584-1626
He probably carved the lettering himself and
doubtless was buried in the same grave
12th Feby 1626
To preserve this stone it was moved from its original position
on the North Side by one of his descendants AD 1936
Why it is thought he carved the letters himself I cannot say; it is likely there were masons in the parish whose services the local minister could afford to hire. Yet we certainly have here a very early dated gravestone (not the earliest- see here). We also certainly behold a broken heart, a grave a father has prepared for his own children. A man burying his offspring is a domestic tragedy. It is difficult enough to bury a parent, but here the older generation lays to rest the younger.
At a recent Bible study we considered the murder of Abel by Cain. As Cain flees, Adam and Eve are left to deal with their child's bloody remains. As he was probably the fist human to die,  he would have been the first denizen of sheol. How dumbfounded must Adam have been as he dug the grave in which his second-born would lie. His own rebellion in Eden had unleashed bloodshed, hatred and death. Wilmslow's Dale children presumably died of natural causes. Although this would have provided scare consolation to John and Phelice, Adam's rearing of both aggressor and victim must have been a bitter pill to swallow.
Until the coming judgment and resurrection, families will commit their members to the grave or to the flames. The cruel and monotonous cycle of returning to dust goes on. Each gravestone advertises its grief, its pain, its loss.
Jesus said unto her, I am the resurrection, and the life: he that believeth in me, though he were dead, yet shall he live: And whosoever liveth and believeth in me shall never die. Believest thou this?
John 11:25-26