John Webster, Vicar of Mitton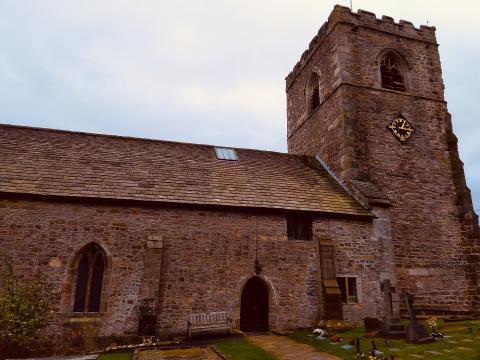 All Hallows Church, at Mitton near Whalley is an ancient place. Old joinery and medieval stone combine to give the place a sense of real antiquity. In a side chapel lie the grandiose tombs of the local Shireburn knights, an even more obvious link to the church's past and another age.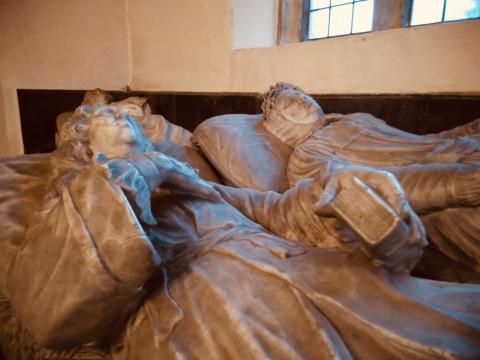 There is much one can say and write about Mitton Church, and it is a place to which I shall return. But I'd like to focus on one of its clerics, John Webster. Born at Thornton in Craven in 1610, he became master at Clitheroe Grammar School before joining the parliamentary army in the civil war as chaplain and surgeon. In 1648, after the dust of battle, if not politics, had settled, he became vicar at Mitton, though he went to London after a few years, before returning again to Clitheroe as a physician, local intellectual and governor of the grammar school. 
In some ways he was wise. He argued against a professional clergy in a heated 1650s debate at All Hallows, London. This is perhaps a little odd from one who had been vicar at Mitton. There was an assumption then- and perhaps now- that the more educated the man, the more spiritual he was. Webster was quite right to refute such thinking: Balaam's ass spoke more truth than some of our reverend doctors and post graduate bishops. In his 1654 The Saints Guide, he argued against a state church and in favour of religious freedom, two debates still relevant today, and not unaddressed by this blog.
On the other hand, he was a bit of a weirdo. In seeking to reform the universities of his day, he sought their adding 'natural magic' and alchemy to the curriculum. He may have thought them cutting edge, but to we moderns they sound rather eccentric. He was also preoccupied with Adam's original language which he sought to discover and learn.
His medical practice gave him a degree of prosperity in 1660s Clitheroe, his estate having over sixteen hundred books as well as equipment for chemistry experiments. Although he started off as a religious radical, he conformed to the restored Church of England after 1662, which helped consolidate his worldly success. He had brushes with the great Lancashire Congregationalist Thomas Jolly and his appointment as burgess was opposed by Roger Kenyon, puritan minister of Accrington and Major General Worsley's father-in-law, because of his unorthodox opinions. His most famous work is The Displaying of Supposed Witchcraft (1677), the full title of which, in a ridiculously wordy seventeenth-century fashion, is 
THE DISPLAYING OF SUPPOSED WITCHCRAFT. Wherein is affirmed that there are many sorts of Deceivers and Impostors, AND Divers persons under a passive Delusion of MELANCHOLY and FANCY. But that there is a Corporeal League made betwixt the DEVIL and the WITCH, Or that he sucks on the Witches Body, has Carnal Copulation, or that Witches are turned into Cats, Dogs, raise Tempests, or the like, is utterly denied and disproved. Wherein also is handled, The Existence of Angels and Spirits, the truth of Apparitions, the Nature of Astral and Sydereal Spirits, the force of Charms, and Philters; with other abstruse matters.
In other words, most 'witches' are either fraudsters or sufferers of delusion; the devil, being spirit, cannot make physical contact with them. It is a pity the good magistrates of Salem, Massachusetts, hadn't read this book ahead of their witch trials 15 years later. 
Webster was a clever man and certainly the kind of chap with whom one might spend a happy afternoon discussing the state of the world. But by his own admission, great learning is no substitute for walking well with Christ Jesus. Only the day of judgement will show if this cultivated, radical vicar of Mitton was saved by grace -or merely graced by knowledge.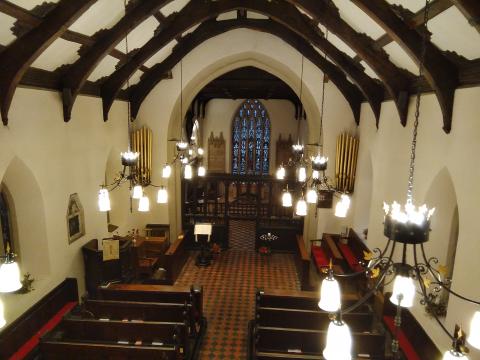 For I say to you that unless your righteousness surpasses that of the scribes and Pharisees, you will not enter the kingdom of heaven. Matthew 5:20