Kelpies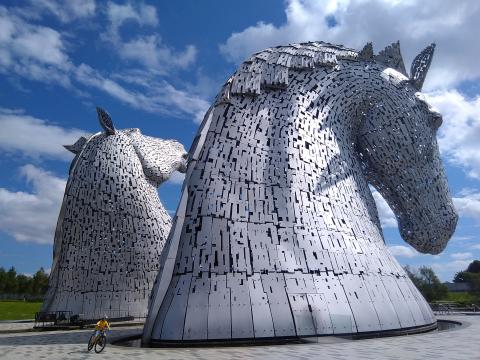 The Kelpies are two ninety-eight feet tall steel sculptures in the environs of Falkirk. Artistically, they are wonderfully impressive, shimmering in the sun. Looking up, I felt quite dizzy. I could almost see them whinnying and frolicking. Andy Scott, the sculptor, says his work pays tribute to the many working horses which toiled in the fields and on the canal side for generations. A kelpy, however, is traditionally a malevolent water spirit, which, in the form of a pony or beautiful woman, lures its victims away into a watery grave. Said Robert Burns' in Address to the Deil:
"…When thowes dissolve the snawy hoord
An' float the jinglin' icy boord
Then, water-kelpies haunt the foord
By your direction
And 'nighted trav'llers are allur'd
To their destruction…"
There seems to be a real treasury of equine folklore in Scotland. To the poor who could not afford them, and the typical peasant who seldom left his village, this powerful mode of transport was a wonder to ponder. In the Bible, too, there is mysterious steed-like imagery:
I saw by night, and behold a man riding upon a red horse, and he stood among the myrtle trees that were in the bottom; and behind him were there red horses, speckled, and white. Then said I, O my lord, what are these? And the angel that talked with me said unto me, I will shew thee what these be. And the man that stood among the myrtle trees answered and said, These are they whom the Lord hath sent to walk to and fro through the earth. And they answered the angel of the Lord that stood among the myrtle trees, and said, We have walked to and fro through the earth, and, behold, all the earth sitteth still, and is at rest.
Zechariah 1:8-11
More terrifying than Scotch legends are the horses seen by the Hebrew prophet, for they bespeak God's coming judgement. If little children by the flowing burns were needlessly afraid of mythical kelpies, we level-headed adults are not terrified enough of Christ's impending return.
For God shall bring every work into judgment, with every secret thing, whether it be good, or whether it be evil. Ecclesiastes 12:14.
Thank God for Jesus.