Kettlewell: Christ Knocking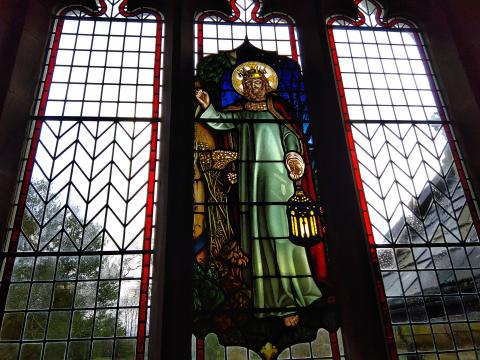 At Kettlewell Church, in Yorkshire's Dales, is a stained-glass depiction of Christ knocking on a door. Based upon William Holman Hunt's The Light of the World (1853) it shows the Lord Jesus of Revelation 3:20:
Behold, I stand at the door, and knock: if any man hear my voice, and open the door, I will come in to him, and will sup with him, and he with me.
That the Son of God would be kept outside, waiting, while we decide whether or not to let Him in! Too many ignore the gentle rap, preoccupied with matters of seemingly greater importance. The actual verse is addressed to the church of the Laodiceans; more appalling than a sinner ignoring the Saviour's call is an entire church which excludes Him from its worship, its sermons, its social life. The more I see of the so-called church, the more I think the Lord is shut out, rapping in vain.