Key of Christ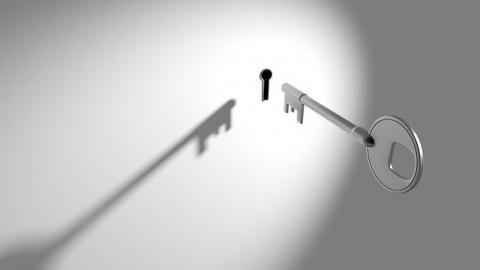 My front door had not been locking for the past week. I could secure and unsecure it from the outside when I left the house, but I could not lock the door from within. Thankfully, a Yale lock is fitted and that sufficed for a good night's sleep. I conferred with one wiser than myself, knowing my own technical acumen (aka common sense) is scant. Would I need a new lock? With WD40 having no effect, my list of solutions was exhausted. I was asked for the key, one of the bits of which, sure enough, was slightly bent (a bit is a technical term. Honestly, I looked it up). The lock was fine but the key was damaged. A pair of pliers and an old spoon set it right.
Twice in scripture we read of the Key of David:
Isaiah 22:22 And the key of the house of David will I lay upon his shoulder; so he shall open, and none shall shut; and he shall shut, and none shall open.
Revelation 3:7 And to the angel of the church in Philadelphia write; These things saith he that is holy, he that is true, he that hath the key of David, he that openeth, and no man shutteth; and shutteth, and no man openeth.
Clearly, Isaiah and John speak of the same thing. We usually call this key the 'gospel'- God's intention, plan and accomplishment to liberate captives through the finished work of Christ. He opens a heaven locked up since the Fall; He opens the arms of the Father that denizens of the pigsty might be warmly embraced; He unlocks the rusted chains of sin that keep us in thrall. 
Should you seek to enter heaven by any other key, you will fail. Such keys are damaged and warped, ill-fitting and counterfeit, never able to open the giant padlocks of God's justice.
I am he that liveth, and was dead; and, behold, I am alive for evermore, Amen; and have the keys of hell and of death -Revelation 1:18
Image by Arek Socha from Pixabay