Key Workers: A Massive Thank You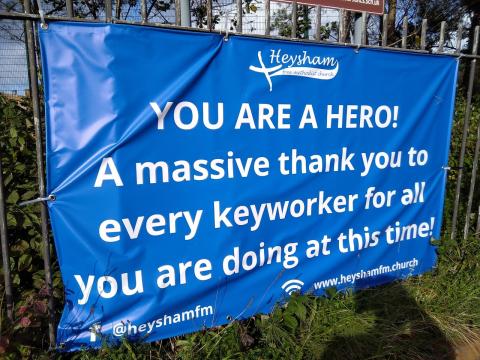 Well this is one piece of church advertising unlikely to offend even the most vexatious and troublesome of local authority bureaucrats. This bold proclamation of everlasting gospel truth was erected on a busy roundabout by a local evangelical church. We have been led to believe, this year, that some occupations are essential, 'key' to our survival and well-being. As well as including the usual brahmin caste who wear with pride their NHS lanyards, 'key workers' include education staff, transport and utility operatives, as well as shelf-stackers at supermarkets and delivery van drivers. These workers are 'key', and as this church cheerfully asserts, 'heroes'.
I would suggest that anyone who works is essential. It is the taxes generated by employees of private sector firms and the self-employed which pays the salaries of the so-called key workers. As a teacher, roughly 20% of my salary goes back to Her Majesty's Treasury which it might spend on my next salary, but the shortfall comes by taxing everyone else. You might work in a factory making otherwise frivolous products, or on a shop floor retailing them, but your work is essential too. You feed your families, pay your bills and enjoy the quiet dignity of supporting oneself.
Creating special categories of worker is also a danger in the church as well as the nation. Those who clean, those who pray, those who fund, those who encourage, are just as key to a fellowship's success as a front-of-house pastor or musician. Dr Luther objected to the papist practice of considering religious vocations like priest or nun to be superior to that of everyone else, such as farming or baking. Whatever one's job, it is a calling, a God-given opportunity to serve and live out the Christian life. Thus, the apostle tells the Ephesian slaves of 6:5 that they should serve men as though serving Christ- for that is what they were doing. Humble, despised work, though disdained by the many, is valued by the Lord Jesus, if it is done for His glory and service. So don't believe this nonsense about key workers and the treacly praise many would be seen heaping upon them. I recently read on Twitter a definition of 'lockdown':
"Middle class people staying at home while poorer people bring them things".
Whether the world values your occupation or not, do what you do for Christ, do it well and do it cheerfully. He will reward you more than the employer's wage or customer's tip. You will be better celebrated than anything a large vinyl advert can say on a roundabout.