Kirkby on the Moor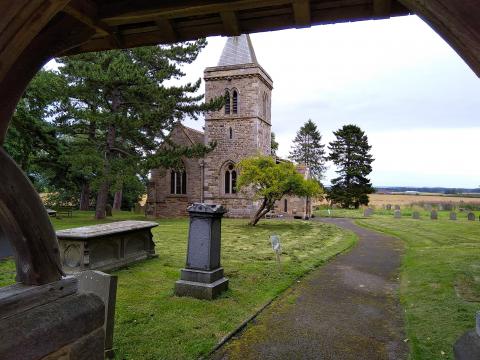 All Saints Church, Kirkby-on-the-Moor, North Yorkshire, is a real mish mash. When I inspected it, I saw a whole range of architectural styles and masonry all crammed together to make the current building. Sure enough, Historic England's helpful website confirmed my puzzled analysis of the building:
Probably C10 origins reusing earlier materials, c1170 and C13 with C15 alterations and restoration 1870 by Sir George Gilbert Scott.
It goes on to list that some of the masonry as Roman, Danish, Anglian, Saxon, medieval, eighteenth century and Victorian. The tower has three stages of construction while the porchway seems to have been built using stone from all sorts of sources. It makes for an interesting visit, but I would not like to be the poor soul tasked with writing its history.
Our own chapel is much plainer, being constructed within 1x hundred-year period. Yet we otherwise draw inspiration from a range of sources. In our theology, one detects Luther and Calvin; in our churchmanship and worship the puritans; in our singing, the Victorians and revivalists; in our desire to save the lost, a hint of Wesley and Whitefield. I myself have been influenced by John Wycliffe and even Peter Waldo; others in the church are affected by the early Pentecostals and the Scotch Presbyterians. In one respect, it does not matter who provided Kirby's stonework, so long as it keeps out the wind and rain. Likewise, whichever your heroes of church history or the biggest influences in your life, be faithful to the scripture, which counts more than all else.
For the word of the Lord is right,
And all His work is done in truth.
Psalm 33:4