Knife Angel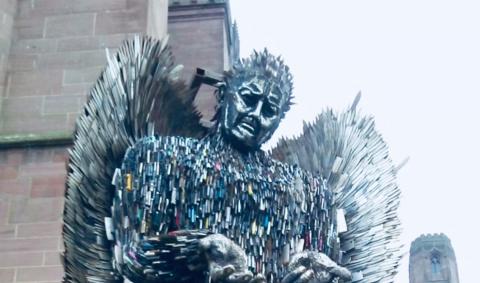 I hurried across to Liverpool on Friday. There was something I wanted to see which is likely to disappear by the end of the month. It's Alfie Bradley's Knife Angel, a large, 27-feet tall sculpture made of 100,000 confiscated weapons gathered from all 43 police forces in the United Kingdom. There were 40,147 knife-related offences in the 12 months ending in March 2018, a 16% increase on the previous year and the highest number since 2011, the earliest point for which comparable data is available. Whereas Britons enjoy hand-wringing when it comes to America's gun crime, we might pay more attention to the equally terrifying problems in our own backyard.
The sculpture itself is somewhat terrifying, and not just because the informed viewer knows the origins of its fabric. Its pained expression shares the anguish of these horrid implements' victims.
Edmund Sears' carol captures the grief of heaven's angels; though they sang of peace and goodwill at the nativity, our fallen race ignores their gorgeous melody that it might better enact its violent disharmony:
But with the woes of sin and strife
    The world has suffered long;
Beneath the angel-strain have rolled
    Two thousand years of wrong;
And man, at war with man, hears not
    The love song which they bring; – 
O hush the noise, ye men of strife,
    And hear the angels sing!