Lady Hewley & Jane Briggs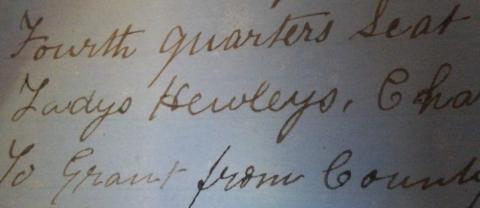 Salem has never been a wealthy chapel. It was founded by working class farm labourers and small tradesmen. Once more, I have been examining the chapel accounts from 1870-1910. I'd have made a dedicated accountant; I find the rows of figures and totals quite fascinating. This time, I've been looking at the financial support given to the chapel from those outside its congregation. Here are some of the gifts we received:
1874: a gift from Joseph Hayes of 10 shillings;
1875: Jane Briggs gave ten shillings;
1884: £2, 10 shillings given by the County Union (the Yorkshire federation of Congregational Churches);
1887: £2, 10 shillings received from a Mr Windsor;
1907: 'from friends' £1,1,0.
The chapel was also a regular recipient of aid from the Lady Hewley Trust, which gave the following sums: 
In the 1870s, the chapel received two payments of £19 9s and 6d.
In 1876-80, it gave £9, 9/6 per annum; 
In 1881 & 1882, £5;
In 1888-98, £3 6 shillings 3d, and £10 in 1899.  
Why the sums varied, I do not know. This may have reflected the Trust's own ability to give, or the chapel's ability to convince the Trust's management that they were in need of support. The Trust is named after its founder, Lady Sarah Hewley (1627–1710), who willed her vast fortune to be devoted to benevolent objects, chiefly the support of 'poor and godly preachers for the time being of Christ's holy gospel.' It continues today, and its charitable purpose is quoted here: 
THE MAKING OF GRANTS TO MINISTERS, RETIRED MINISTERS AND THEIR WIDOWS WHO ARE MEMBERS OF THE UNITED REFORMED OR BAPTIST CHURCHES AND ALSO STUDENTS WHO ARE STUDYING FOR MINISTRIES IN THESE CHURCHES AND ATTENDING CERTAIN SPECIFIED COLLEGES. PREFERENCE IS GIVEN TO THOSE FRO THE NORTHERN COUNTIES OF ENGLAND. THE MANAGEMENT OF ALMSHOUSES BELONGING TO THE TRUST IN YORK. 
It is ironic that Salem Chapel, which benefited so much from Lady Hewley's generosity in the past, is now seemingly ineligible for never having joined the URC in 1972. Nevertheless, Sarah Hewley, though long dead, played an important part in keeping our chapel open and Christ's gospel continuously preached in this place. 
I thank God for the generosity of former generations- not just Sarah Hewley's- but the humbler folk like Jane Briggs and Joseph Hayes who gave what little they could. Truly, they invested their money in Christ's great enterprise, and though they are now departed, they are receiving their dividend in full. 
Wherefore seeing we also are compassed about with so great a cloud of witnesses, let us lay aside every weight, and the sin which doth so easily beset us, and let us run with patience the race that is set before us. Hebrews 12:1