The Last Day will Discover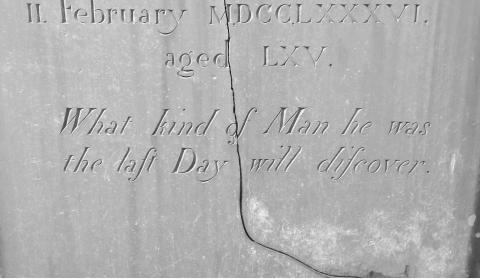 I've previously remarked that there is often more spiritual truth in a graveyard than in the church to which is it attached. Yet gravestones, memorials and funeral eulogies sometimes brag about the deceased person's virtuous life. Reading some memorials invites one to conclude that only the very purest of folk were admitted to such hallowed ground. The grave of William Whalley, 'late of Accrington', at St Peter's, Heversham, refuses to gush about his good works and pious living. After the usual formalities, it merely states 
What kind of Man he was the last Day will discover
Was he an outwardly respectable brute whose long-suffering wife and children celebrated his passing, hinting at his dark memory and foul deeds? Or was he a modest, goodly man who tired of others' grandiose, post mortem claims, preferring to receive God's gratitude rather than the praise of men? The Last Day will indeed clear this up, one way or another.
Therefore judge nothing before the time, until the Lord comes, who will both bring to light the hidden things of darkness and reveal the counsels of the hearts. Then each one's praise will come from God.
1 Corinthians 4:5
As what kind of person will you be revealed on the Day of Reckoning? Will you be shown to be a real disciple of Jesus, or a corpse in sheep's clothing? A respecatable White-washed tomb or a heart-cleansed recipient of God's grace?