Leeds' Victoria Quarter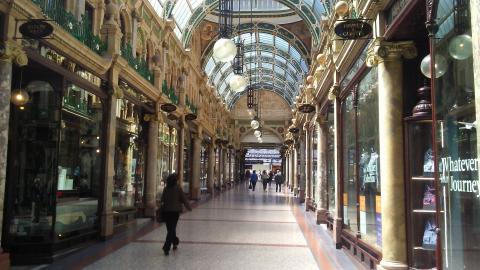 Whereas many high streets are tatty and bereft of decent shops, Leeds' retail district seems to only ever expand outwards and upwards. One of its best shopping areas is the Victoria Quarter, consisting of the Cross and County Arcades, two rather decadent Edwardian covered streets. They have luxurious cafes, the waiters of which are specially trained to look down on shabby customers; Harvey Nicols sells take-away meals here and the exclusive-looking shops sell wares costing more than most folk earn. A sparking emerald ring caught my eye, its price tag demanding £32,250. The patrons of such establishments must derive pleasure knowing that few others can afford to shop here. For those with even less sense than money, there's the Victoria Gate Casino, open 24/7, with its fashionable champagne and cocktail bar. Paul Dabraszczyk in his Ragpickinghistory website suggests that the Leeds Corporation built the arcades to increase civic pride and encourage a better class of shopper to the city, essentially reclaiming the streets from the proletariat. A hundred years on, and its mission is still being accomplished.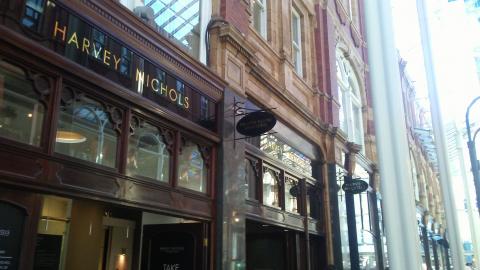 A large blue plaque notes the area's original usage: dirty medieval courtyards and Georgian shambles- i.e. slaughterhouses and butchers' backyards. I wonder if, deep down, the area hasn't really changed. Sure, it's beautifully elegant to behold; its staff are charming and polite, its customers wealthy and successful. But beneath the surface, it's still a bloody, dirty shambles. The rich spending their profits while neglecting their souls, the shops offering all manner of luxurious trinkets the customer does not need and cannot keep. The apostle James rudely interrupts this polite and lucrative trade, crying out
Come now, you rich people, weep and wail over the miseries that are coming on you. (5:1)
As our nation grows richer, it becomes deafer to the gospel's gentle call and insensitive to its urgent need to repent. These prestigious shops and exotic products will one day melt in the fire of His coming.