Letterboxes of the Heart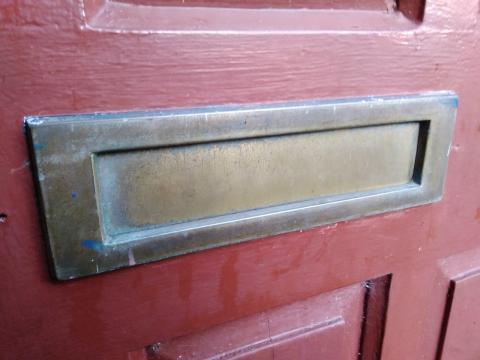 I've just returned from delivering leaflets for our Murder on Christmas Eve event tomorrow night. It was minus 4 centigrade when I began, and dark- but that's still preferable to rain or drizzle when the leaflets go soggy. Delivering is a fairly mindless exercise, so I had time enough to contemplate the many and varied letter boxes through which I stuffed my invitations. In many ways, they resemble the human hearts occupying the space behind:
-Some offer resistance, requiring a more determined shove. The leaflet mangles and creases, and one wonders if it ever gets through. 
-Others gratefully accept the offering; it glides down onto the mat with little trouble or fuss.
-A minority are guarded by angry little demons, viciously snapping and yelping as one dares invade their territory.
-Some bruise and cut the evangelist's fingers, cracking shut, resentful at having been opened.
-A growing number are accompanied by hand-written signs, advising against charity bags and junk mail. Having received so much rubbish in the past, they warily consider anything else that comes through.
-A handful don't seem to open at all. Have two houses been joined, and the doorway is for decorative effect? Was the frost making it stick? Was it nailed shut, preventing receipt of the next gas bill? Some hearts are so hard and calcified, it's a marvel they live at all.
Behold, I stand at the door, and knock: if any man hear my voice, and open the door, I will come in to him, and will sup with him, and he with me. Revelation 3:20