Life from death
My kitchen windowsill is home to an assortment of pots of compost, used mainly for planting odd pips and seeds – just to see what happens. Not much, sometimes, but at other times a piece of turmeric root will start to produce leaves, or a cherry stone will sprout. I'm still hoping that one day a baby date palm will appear!
One of the most interesting things to watch is the growth of an avocado plant. For weeks, the half-buried stone appears unchanged...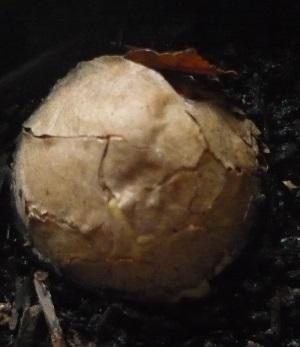 ...until one day it cracks and a tiny shoot emerges.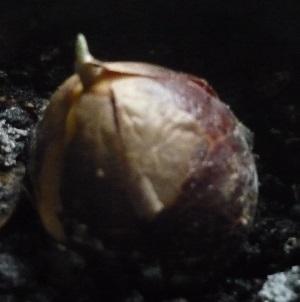 In no time it is inches tall, leaves appear...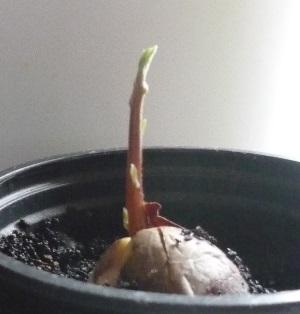 ...and the young plant grows apace, ready to take over the kitchen if it were given the opportunity! But the growth of the plant is matched by the visible shrinking – the dying – of the stone as it feeds the life springing from it.
Shortly before His death, the Lord Jesus said, "Most assuredly, I say to you, unless a grain of wheat falls into the ground and dies, it remains alone; but if it dies, it produces much fruit." (John 12:24) As we think of that, we are reminded that only by the death of the Lord Jesus can there be life for sinful men; had He not died, there would have been no fruit, no-one would ever have been saved.
Yet He goes on to say, "He who loves his life will lose it, and he who hates his life in this world will keep it for eternal life." (John 12:25) For His people too there is the same principle at work; unless we die to this world, to its patterns of thought, its values, its behaviours, there will be no fruit for God in our lives.
"Death," says Lilias Trotter, "is the Gate of Life." That is where we must begin:
"We must die if we are to live. There is no spiritual life for you, for me, for any man, except by dying into it. Have you a fine-spun righteousness of your own? It must die. Have you any faith in yourself? It must die. The sentence of death must be in yourself, and then shall you enter into life. The withering power of the Holy Spirit must be experienced before his quickening influence can be known." Charles Haddon Spurgeon
And that is how we must go on:
"But blessed as it is, this passage into a life of peace with Him, woe to the soul that stops there, thinking that the goal is reached, and dwindles, so to speak, into a stunted bud. Holiness, not safety, is the end of our calling.
"Is it an act, or a gradual process, this 'putting off the old man'? It is both. It is a resolve taken once for all, but carried out in detail day by day. Come to the decision once for all: 'every known sin shall go – if there is deliverance to be had, I will have it.' Put the Cross of Christ, in its mysterious delivering power, irrevocably between you and sinning, and hold on there. That is your part, and you must do it. There is no further progress possible to you, till you make up your mind to part company with every sin in which you know you are indulging – every sin of thought, word, or deed, every link with the world, the flesh, or the devil, everything on which the shadow of a question falls, as the light of God shines in; to part company, not by a series of gradual struggles, but by an honest act of renouncing, maintained by faith and obedience. And as you make the decision up to your present knowledge, you must determine that this is henceforth your attitude towards all that is 'not of the Father', as His growing light shall reveal it.
"From His side God will come with a breath of His resurrection power. The law of the Spirit of Life can work now, as you deliberately loose hold all clinging to sin; the expulsive power of His working within, and the play of His winds around, will make you 'free indeed'." Lilias Trotter: Parables of the Cross
My son, give attention to my words; incline your ear to my sayings.
Do not let them depart from your eyes; keep them in the midst of your heart; for they are life to those who find them, and health to all their flesh.
Keep your heart with all diligence, for out of it spring the issues of life.
Put away from you a deceitful mouth, and put perverse lips far from you.
Let your eyes look straight ahead, and your eyelids look right before you.
Ponder the path of your feet, and let all your ways be established.
Do not turn to the right or to the left; remove your foot from evil. (Proverbs 4:20-27)
If then you were raised with Christ, seek those things which are above, where Christ is, sitting at the right hand of God. Set your mind on things above, not on things on the earth. For you died, and your life is hidden with Christ in God. (Colossians 3:1-3)
Search me, O God! My actions try,
And let my life appear
As seen by Thine all-searching eye ‒
To mine my ways make clear.
Search all my sense, and know my heart,
Who only canst make known;
And let the deep, the hidden part
To me be fully shown.
Throw light into the darkened cells,
Where passion reigns within;
Quicken my conscience till it feels
The loathsomeness of sin.
Search, till Thy fiery glance has cast
Its holy light through all,
And I by grace am brought at last
Before Thy face to fall.
Thus prostrate I shall learn of Thee,
What now I feebly prove,
That God alone in Christ can be
Unutterable love!
Francis Bottome