Little Langdale: Steep, Narrow Roads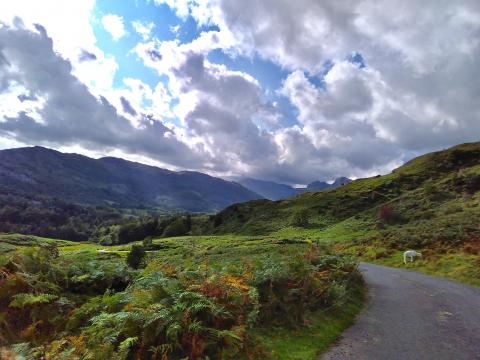 Last summer, my aunt and I attempted a journey to Brow, a hamlet or farmstead at Little Langdale near Grasmere. We sought the birthplace of Bella Parker, our eighteenth-century ancestor. In the end, we never made it. Those difficult, winding roads were tricky at the best of times; six miles in, a road closure sent us back empty-handed. Still, the scenery was particularly stunning. I'm not just saying that the Lake District is pretty- we all know that and most readers will have seen it for themselves. But some of its best, unspoiled vistas require uncomfortable journeys down steep and narrow tracks, far from the beaten path and busy car parks of Windermere and Bowness.
Looking back in my life, I have gone down many a dark lane, up several steep trails and along some particularly hard pavements. Wondering why my Good Shepherd and Pillar of Fire would lead me so, I have always been assured of my destination's loveliness. Walking with the Lord is seldom easy, but neither is it ever boring, drab or mundane. His narrow way takes us through delectable mountains, green pastures and by still waters, until we arrive at the Beautiful City itself.
If your path is hard, look up and around. The place through which you trudge is made beautiful by His presence, for
As they pass through the Valley of Baca, they make it a spring (Psalm 84:6) and 
The paths of man are directed by the Lord: for he loveth his way (Psalm 37:23).