Liverpool Church Architecture: Two Cathedrals & One Kirk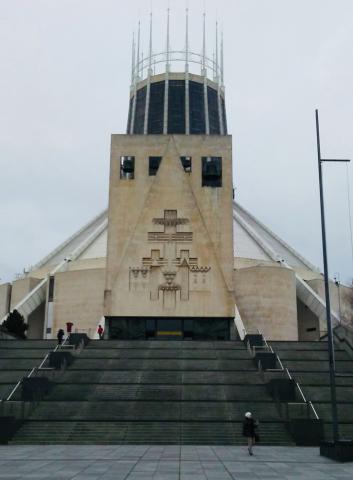 The Catholic, 'Metroplitan Cathedral of Christ the King' is the most forward thinking of the designs with its huge truncated cone. There is something distinctly South American about it, from the white-washed exterior, the evangelists' reliefs resembling terrifying Aztec deities (below) and the statues within of Latin American saints like Oscar Romero.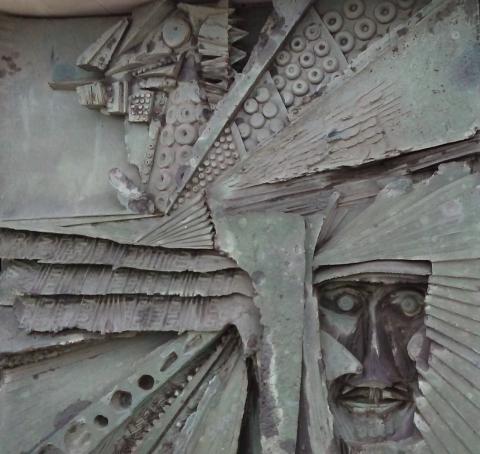 As a building it does work, though this was a scaled-down, sixties' substitute for Sir Edward Lutyens' pre-war plans for a domed basilica second only to Rome's St Peter's. Inside, the altar is in the middle, with the worshippers surrounding it in a circular manner. Despite its modern design, it's rather murky within. Even on a dull day, one emerges from it blinking. Like most buildings from the decade, it soon began to leak, and the Archdiocese sued the architect for damages.
The Anglican cathedral, on the other hand, is backward-looking. Although it was entirely built within the twentieth century, it's an oppressively heavy, gothic monolith. At 207 yards, it's the longest cathedral in the world, and the fifth largest in terms of volume. Again, on account of generous stained glass and its cavernous interior, its inside is rather gloomy. This was not necessary to sustain its gothic character and a design flaw in my opinion. Still, it can only impress the visitor.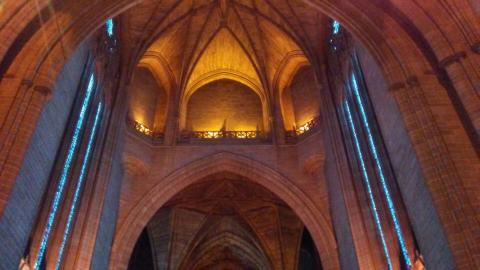 The Chapter House was paid for by the West Lancashire Freemasons, whose symbols they discreetly hid in the stonework and windows, some of which concern their hero Solomon. I'm surprised that a group that worships an unidentified, mysterious Grand Architect should be allowed to contribute to a cathedral of a God who makes Himself clearly known in the person of Christ.
The third piece of ecclesiastical architecture is that of the classical Scotch Presbyterian church. Built in 1793 to accommodate the town's Scottish community, its architecture would not be out of place in Edinburgh. It's a rather hefty classical style, hearkening back to the classical worlds of Greece and Rome. This was in keeping with the eighteenth century's revival of ancient culture and Protestantism's desire to sidestep 1400 years of medievalism to get back to the faith's New Testament roots. This is the only redundant church of the three here described; despite its promising origins, the Church of Scotland capitulated to a choleric liberalism which decimated its congregations and silenced its pulpits. This church is now accommodation for Liverpool's student community. What the church's dour, psalm-singing founders would have made of its current occupants' vibrant hedonism, one can only imagine.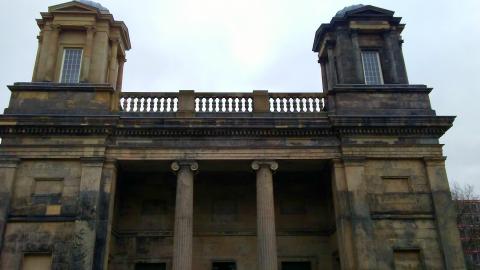 All three architectural styles are somewhat out of place and yet they each make Liverpool the great and varied city that it has become. I love architecture; had I my time again, I might have pursued this as a career. Nevertheless, like Abraham, I look for a city which hath foundations, whose builder and maker is God. (Heb 11:10).