Locked Up, Shut Down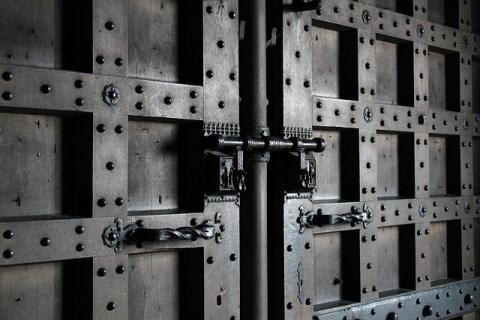 Have you noticed how few churches have reopened? I appreciate that they'll be operating online and still feeding their sheep, but I am a little disappointed by a) the enthusiasm with which some closed in March and b) the apparent lethargy or fear which kept them closed from July. Quite frankly, it's the biggest, best staffed churches which seem most incapable or unwilling to re-open. What are they waiting for, the virus to go away? They might as well shut down for good, because it's not going anywhere soon. I suspect that the additional arrangements, cleaning, precautions and general admin is simply too much bother. Sitting in an armchair and whispering into a tablet is far easier.
Sure, re-opening hasn't been straight forward. I've handled complaints about masks; about too much taking place online and too little taking place online; about this or that or the other. Implementing the government's guidelines regarding mingling after the service will not see me awarded Most Popular Pastor of the Year.
Our Congregational and Presbyterian forbears faced dilemmas worse than what we face. In 1664, the Conventicle Act was passed, preventing non-Anglican religious gatherings of more than five people other than one's own household. Sound vaguely familiar? A previous Act of 1662 had ejected Congregational and Presbyterian clergy from the official church's ministry. A further Act of 1665 prevented these godly men from entering within five miles of a parish in which they had formerly served. Those of the congregational way therefore had to choose between submitting to stiff, prayer-book Anglicanism, worshipping at home only, or worshipping illegally.
Many conformed. Either out of respect for the state, for a quieter life or for continued opportunities to minister, many took the oaths and repeated the weekly prayers. Others refused, losing salaries, homes, monies and freedoms. Those true believers who conformed, and those who nonconformed, may be peering down at some of our still-closed churches with disbelief. At a time when hopelessness, fear and despair pervades many a heart, the doors of the Kingdom remain bolted and padlocked, and have been for the past six months.
Image by Maike und Björn Bröskamp from Pixabay