Loki Stone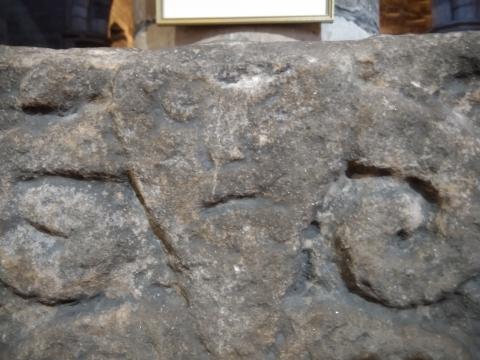 I went to visit Kirkby Stephen parish church last week. At 4.45pm I saw the door was still open, so I walked in, pleasantly surprised. A lady tootling around inside explained it was the first Mass since lockdown that very evening; the church, though Anglican, was also used by the town's papists. She asked to make use of my phone's flashlight while she attempted to find the light switches, hidden as they were in a dark corner. As I shone my phone, I silently hoped she would find a stronger light, not for her church-based chores but her very soul.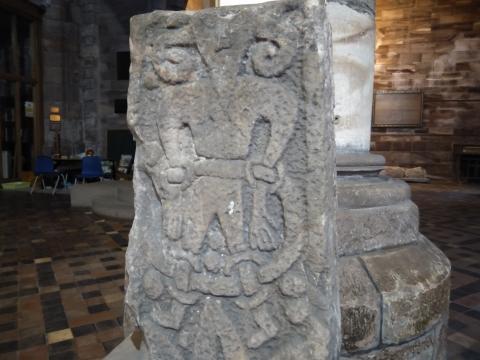 One of the church's highlights is a prominent tenth-century carved stone. On it is depicted a horned figure, leering back at the viewer. Called the Loki Stone, it is thought to depict the Norse deity responsible for trickery and deceit. He was not quite considered evil, but Saxon Christians found it convenient and plausible to link him to Satan. It is quite odd, therefore, that Kirkby Stephen Church should greet its visitors and worshippers with an ogling image of the devil, or some pagan god with devilish attributes. Yet if one looks carefully at the sculpture, the horned figure is bound. He looks menacing enough, but unless one draws close, he really cannot do much harm.
The Lord Jesus talked about binding the strong man before seizing his goods, and Satan is bound for a thousand years in the abyss in the book of Revelation. Amillienialists understand this to refer to this present, gospel age. Satan, though still powerful, is limited and restricted by God's decree. Any who would escape his dominion may do so, easily. In Bunyan's Pilgrim's Progress, Christian is perplexed and affrighted by the roaring lions, whose strong chains he could not see. Though they growl and threaten, they have not sufficient length to devour or maul.
Clearly Satan is a force to be reckoned with, one against whose wiles and deceits we should always be on our guard. The Catholics of Kirkby Stephen need enlightening from their masses and saints, the Hindu from his gods, the atheist from his arrogance- all reminding us of the arch-deceiver's clever deceits. A defeated, chained enemy can still pose a challenge, assault our faith and ill-affect our souls. A cornered, desperate rat will go for the jugular, not the ankle. Whatever name by which he goes, his fists are as strong as his thoughts are ugly, though his words are smooth and his tone flattering. Beware of the enemy; scripture does not warn us for nothing.
Be sober, be vigilant; because your adversary the devil, as a roaring lion, walketh about, seeking whom he may devour. 1 Peter 5:8