Mavis Grind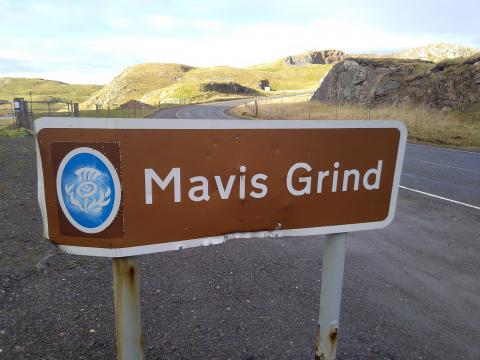 Mavis Grind sounds like a member of Coronation Street's Glad Tidings Mission Hall, one of those decrepit old chapels stocked with working-class harridans like Ena Sharples and Gladys Arkwright. For my previous thoughts on such places, see Old Bats. In fact, Ms Grind is no such character and is the name of a Shetland Isthmus, a thin strip of land between two expanses of water. On the one side, the North Sea, on the other the Atlantic Ocean. The separating neck of terra firma is sufficiently narrow to allow a stone to be cast from one sea to the other. I ruled against verifying such a claim on the grounds that a badly aimed or poorly powered attempt might break a passing windscreen or skull. In Old Norse, Mavis Grind means "gate of the narrow isthmus".
Whereas the Norse made me chuckle, the English set me apondering. During gales and storms, these two mighty oceans of water must roar and surge, angrily lapping the isthmus and setting affright all taking the path between. Yet Mavis Grind has never been washed away; this narrow gate has held firm. Psalm 89:9 says 'You rule the raging of the sea; When its waves rise, You still them.' The Lord Jesus, speaking of the end times, warns in  Luke 21:25 "And there will be signs in the sun, in the moon, and in the stars; and on the earth distress of nations, with perplexity, the sea and the waves roaring". Yet we who find refuge in the Gate whose path is straight and narrow, will never find ourselves swept away, though we are blasted from both sides. We sometimes walk into headwind and receive sea spray in our faces, but the Lord of the Way will lose not even one of us:
Let the sea roar, and all its fullness,
The world and those who dwell in it;
Let the rivers clap their hands;
Let the hills be joyful together
before the Lord,
For He is coming to judge the earth.
With righteousness He shall judge the world,
And the peoples with equity.
Psalm 98-7-9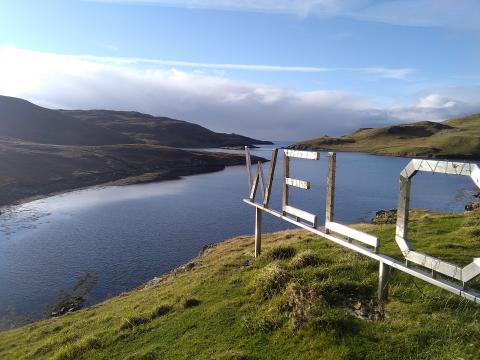 The calm Atlantic Ocean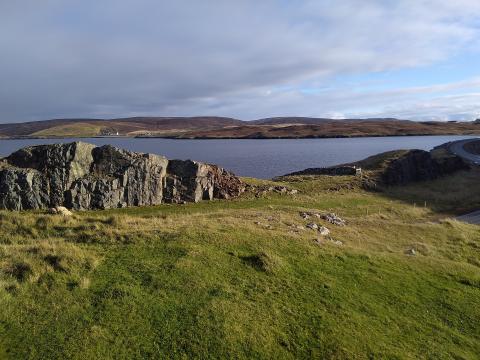 The North Sea