Meadow Sweet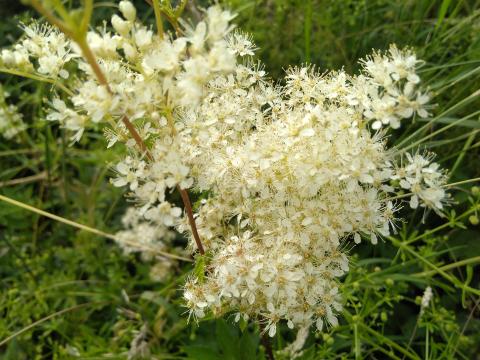 Our lanes are lined with the light, airy sprays of meadow sweet. The flower is well worth a sniff, and the scent of a thousand plants on an A road's verge makes motoring all the pleasanter.
In the days before carpet, floors were given a covering of sweet-smelling plants, along with reeds, rushes, and straw. Meadow sweet was one the Tudors' favourite herbs: 'Queene Elizabeth of famous memory, did more desire it than any other herb to strew her chambers withall' -Gerard's Herbal.
The stink of dirt and sweat was wonderfully masked by this pleasant flower. Though it was a favourite of monarchs, it was just as accessible to any village-bound peasant or lowly apprentice. A short stroll down any summer pathway would certainly yield a quantity of meadow sweet. What was mete for the palace was fit for the hovel. So with the sweetness of Christ's salvation. Whether you be rich or poor, educated or illiterate, beautiful or plain- His blessing is available to all who would seek it; it covers every believer's guilt for ever. 
For whosoever shall call upon the name of the Lord shall be saved. Romans 10:13