Memories
I've been having a trip down Memory Lane this week. A snippet from 'Evangelical Times' caught my eye: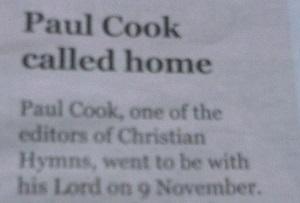 Many evangelical Christians will have had cause to be grateful to the Lord for the labours of Paul Cook, Graham Harrison, John Manton and Philip Watson in compiling 'Christian Hymns' - still my favourite hymn-book. I know some congregations thought there were too many Welsh tunes, but the church I attended in the English Midlands was not one of them, and the sound of three hundred or so voices praising God on a Sunday evening in the words of 'Great is the gospel of our glorious God' (Pantyfedwen) or 'A debtor to mercy alone' (Trewen) lives in my memory still.
But I have other memories of Paul Cook. Strangely perhaps, of the thousands of sermons I have listened to in my Christian life, the three I heard him preach have stayed with me for decades.
I remember visiting a friend who attended the church in Shepshed of which Mr Cook was the pastor, and going to the services one Sunday. The sermon that morning was preached from Romans 2:4. Or do you despise the riches of His goodness, forbearance, and longsuffering, not knowing that the goodness of God leads you to repentance? A word of warning, I recall, to the unbeliever, but also to the believer – for how often do we presume upon God's goodness as we continue on a wrong path, ignoring His warnings and forgetting the reality of His discipline?
In the evening it was Mark 10:13-14. Then they brought young children to Him, that He might touch them; but the disciples rebuked those who brought them. But when Jesus saw it, He was greatly displeased and said to them, "Let the little children come to Me, and do not forbid them; for of such is the kingdom of God… What do I remember from that sermon? That, though unbelievers often think that only the weak and the helpless need the Saviour, in fact 'it takes an extra-special work of the Holy Spirit' to convict a child of sin so that they see their need of forgiveness and are brought to Jesus in repentance and faith. Not, perhaps, the way we always think, tending to be more captivated by sensational testimonies!
As we left the church that evening, the pastor was at the door; my friend introduced me. "Good to meet you, Rosemary," said Mr Cook, "and when were you converted?" I told him and then we chatted for a little while. Not exactly a conventional greeting, but certainly memorable!
I had the privilege of hearing Mr Cook preach on one other occasion a few years later. It was at a Bible convention in the Cotswolds, and was, I think, the first time he preached after a long period of ill-health. On that occasion the text was Hebrews 13:13. Therefore let us go forth to Him, outside the camp, bearing His reproach. It was an exhortation to true believers to live biblically – counter-culturally we might say –and to separate ourselves from the world and its enticements. And as the world darkens around us, so, if we truly live according to God's Word, with our eyes open to the false ideologies around us (and even within the church), the difference will be all the greater and thus, in a sense, it will be easier to obey that command. The reproach will be greater too, but it is 'to Him' that we go forth.
Surely that is a message to which we should all give earnest heed!
I'll finish with a hymn by Paul Cook, anticipating the joys he is now experiencing. Make sure to sing it to Arwelfa!
Rise with me – my soul in triumph
Mounts to see the Prince of kings;
Draw with me the flood which issues
From the boundless heavenly springs.
There together let us wonder,
Gaze upon the Lamb that died;
Bow before the Victor reigning,
Glory in the flowing tide.
O how mighty are the riches
Of a grace so large and free,
Full of virtue and redemption,
Bought by grief and agony!
There for sinners interceding
Sits the Man of Sorrows now,
Glory, honour, praise eternal
Circle round His noble brow.
Stay with me, while here I glory,
Raptured by His lovely face;
Praise with me the King of beauty,
All the lines of favour trace.
King eternal, may Thy mercy
Move our souls Thy grace to adore;
Streams all-flowing, love abounding
Satisfy for evermore.
Paul Eric Graham Cook 1932-2020
Precious in the sight of the Lord is the death of His saints. (Psalm 116:15)