Mists in the Valley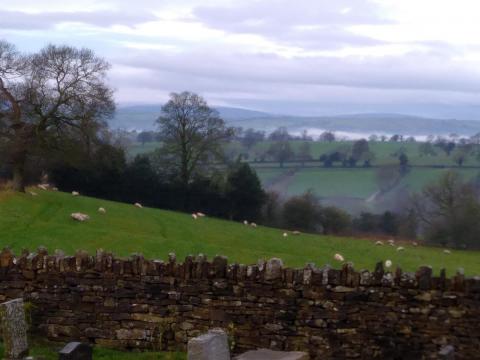 On our first Sunday after lockdown #2, few driving down Howgill Lane could fail to notice the mist in the valley. As though pre-arranged by some photographer seeking attractive shots for next year's Lancashire Life calendar, mist silently hovered over the valley floor, covering the lower parts of the trees. It could also be admired from our graveyard, though the reduced height limited the view.
Mist in valleys is caused by dampness in the air usually after a bright day. The sun retires and the temperature cools, but there is more moisture in the air than it can hold. The coolness prevents the water from evaporating upwards, and so the vapour condenses to cloud-like droplets. On a sunny winter's morning, it appears that clouds hide in the valleys while there may be a crisp blue sky overhead. It is a brief reminder of the antediluvian world to which our ancestors belonged:
…but a mist went up from the earth and watered the whole face of the ground (Gen 2:6).
The land was then gently drenched by a morning dew rather than the familiar rains and downpours, with which we Englishmen are certainly familiar. It also behoves recollection of a second significant reference to mists in scripture, from James 4:14:
whereas you do not know what will happen tomorrow. For what is your life? It is even a vapor that appears for a little time and then vanishes away.
If Sunday's mist evoked the gentleness of Eden, it also pictured the transient and fleeting qualities of our earthly lives. As we emerged from the chapel, the beautiful mists were long gone. Our physical lives are short, our days numbered. May we use our time here wisely, with an eye to eternity.