Moreton Corbet Castle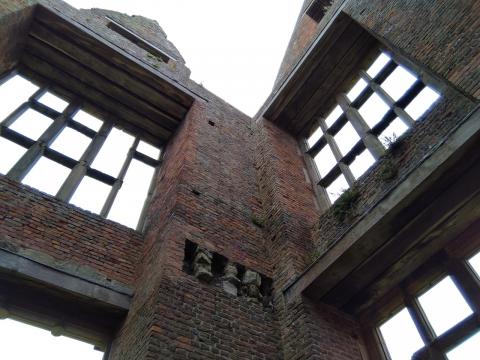 Moreton Corbet Castle, Shropshire, is a strange place. Owned by English Heritage and open to visitors, it combines a medieval castle with an Elizabethan mansion. Usually, Tudor builders would have demolished the one to make space and materials for the other. Here, thankfully, the two co-existed. The castle was a bulky fortress; thick stone walls and crenelated towers from which missiles might be thrown. The mansion was rather more aesthetically constructed with sculpted stone beasts, large windows and generous fireplaces. One offered security, the other comfort and prestige.
Today, both are ruined, having been abandoned as far back as the eighteenth century. Not only does it now offer a pleasant picnic spot, but also a reminder of the temporal nature of our security and leisure. What we think will keep us safe and afford us comfort will one day be ruinous and desolate. Only Christ is the strong tower in which we'll be secure, the Lilly of the Valley in whose company we may eternally delight.
It was another Corbet, Miles by name, who described the fleeting nature of riches, and our unassured tenancy of the world. As he faced execution for his role in the civil wars, he declared:
"I never bought any king's or bishop's lands; I thought I had enough, at least I was content with it; that I might serve God and my country was that I aimed at".
Don't spend your life seeking pleasures or securing your gains, for both you will lose, among the charred ruins of judgement. Wrote Thomas Watson:
If you would not miss the heavenly kingdom, take heed of the delights and pleasures of the flesh. Soft pleasures harden the heart; many people cannot endure a serious thought, but are for comedies and romances; they play away their salvation. Pleasure is the sugared bait men bite at, but there is a hook under it. 'They take the timbrel and harp; and rejoice at the sound of the organ.' Job xxi 12. 'That lie upon beds of ivory, that chant to the sound of the viol, that drink wine in bowls, and anoint themselves with the chief oinments.' Amos vi 4, 5, 6. The pleasures of the world keep many from the pleasures of paradise. What a shame is it, that the soul, that princely thing, which sways the sceptre of reason, and is akin to angels, should be enslaved by sinful pleasure!