Mudflats and Marshes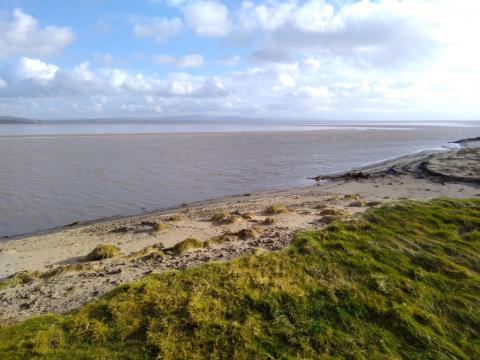 I came to Grange-over-Sands yesterday and donned my wellies and binoculars, heading to Kents Bank. As the name suggests, this is where the River Kent, which flows through (and gave its name to) Kendal, enters the sea. There are nice views across the bay to Lancaster and Morecambe, and the Bowland fells beyond. It was a sunny afternoon, but there was no getting away from the brown mudflats and drab marshland of a typical river estuary. Yet what appeared as dull and featureless to me, is a wonderfully rich source of food for wading birds. Through my binoculars, I observed curlews with their distinctive cries. white egrets walking the marshes and oystercatchers, beaks submerged. Those bland-looking stretches of mud are rich with worms, molluscs and fish, attracting these long-billed fowl which come to feast. Like a good restaurant in a back alley, so the best nourishment is often found in drab-looking places.
An interesting survey by Leslie J. Francis in 2000 found that between 48% and 25% of young people found the Bible 'boring'. Those respondents are 20 years older now, though perhaps none the wiser. Moribund preaching and turgid RE lessons may account for the numbers, though few who claim such may have actually tried reading it. Many homes will possess a copy, but few trouble to leaf through its pages. If only they knew how rich the spiritual nourishment it contains, those words of eternal life, that glimpse into the unfathomable depths of God's mind. Wading birds, I think, are much wiser and better nourished, than the humans who gaze out at them. They know their feeding grounds might not appear attractive, but it's where the best food is had.
Again, the kingdom of heaven is like unto treasure hid in a field. Matthew 13:44