No Form, Nor Comeliness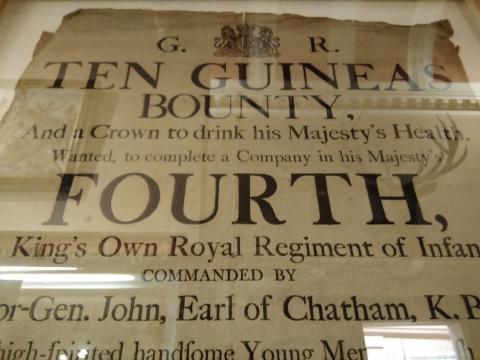 A recruitment poster from 1800 seeking recruits to the King's Own Royal Regiment is displayed at the regimental musem, Lancaster. Note the kind of recruit the regiment seeks:
King's Own Royal Regiment of Infantry, COMMANDED BY
Major-Gen. John, Earl of Chatham, K. B. &c.
A few high-fpirited handſome Young Men, who wish to enter into high pay, free quarters, good clothing, with a number of other advantages, which may be known by immediate application to Ensign Halford, Parade;
Or to Serjeant THOMAS BRIDGELAND, At the Marquis of Granby, Lamb-lane, Canterbury.
Where they will meet with every attention and encouragement a Soldier can require.
N. B. The Bringer of a good handfome Recruit fhall be liberally rewarded. GOD SAVE THE KING.
PRINTED BY W. BRISTOW, ON THE PARADE, CANTERBURY.-1800.
I can understand why young and high spirited soldiers might be sought, but why handsome ones? I can see why high pay, free accommodation, good clothing and 'other advantages' might make tempting propositions, but why the need for good looks? The regiment presumably wished itself to look good. Politicians, actors, musicians and sportspersons do seem to make better career progress if their facial features please our eyes. Indeed, several Biblical characters are described as attractive. These include several men, including David, Saul, Moses, Joseph, Absalom, Daniel and Jonathan; and a good number of women: Abishag, Sarah, Rachel, Abigail, Bathsheba and Job's daughters. Isaiah 53:2 describes the log-awaited, incarnate Son of God, Jesus, in the following way:
For he shall grow up before him as a tender plant, and as a root out of a dry ground: he hath no form nor comeliness; and when we shall see him, there is no beauty that we should desire him.
Although He was soon to be scarred by sin and mistreated to such an extent that his 'visage was so marred more than any man', the text above indicates that in His natural, pre-crucified state, He was not visually impressive in any event. Though the most beautiful Being in the cosmos, to whose glory and majesty the angelic hosts are attracted, He came to earth as a plain individual. I suspect He might have been rejected by Serjeant Bridgeland of the King's Own. Sometimes, the great God chooses the beautiful and the suave, but more often, the plain and the modest, for such was He.