Not Wanting to go Home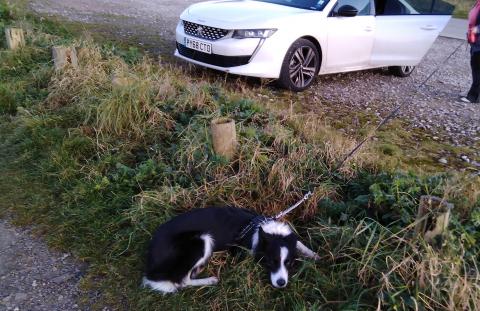 What's this? A young and otherwise lively hound laying down on a verge whilst out on the lead. Why does he not run about? His owner has opened the car door in order to get his ball. As an act of protest at returning home so soon, he feigns tiredness or sleep, refusing to budge. In fact the walk continued, and young Tom re-found his ability to move freely once he realised his continued 
good fortune.
It was an amusing charade, which might otherwise beg us to ask if his home is really so awful a place? I can vouch for its warmth and love, abundance of toys and dog food, and the presence of feline friends to sniff and annoy. So why did he not want to go there? Understandably, lively Tom wanted to run about the beach and grasses of Bolton-le-Sands, enjoying the fresh air and open expanses. Yet his attitude to going home is reminiscent of many Christians. If the Lord Jesus has been preparing a place in paradise for us these last two millennia, why do we act and think as though we do not wish to leave this world?
"Let not your heart be troubled; you believe in God, believe also in Me. In My Father's house are many mansions; if it were not so, I would have told you. I go to prepare a place for you. And if I go and prepare a place for you, I will come again and receive you to Myself; that where I am, there you may be also. And where I go you know, and the way you know."
John 14:1-3
When the Lord calls you home, don't sulk or struggle, like a puppy on a lead. Embrace the invitation to the place where you belong, a place without sorrow or grief. However nice your current life, it's not a patch on what is waiting for you across the hallway.