October's Blue Moon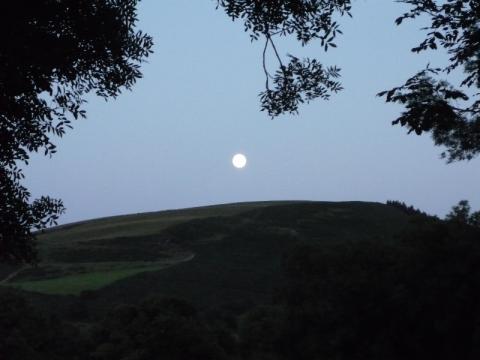 There will be a full moon tomorrow, though whether it will be visible or hidden by clouds remains to be seen!
October's moon is often referred to as a Hunter's moon, or a Harvest moon, but this full moon is a bit special – it's a blue one. Not that it is very likely to look blue; if it does, it will be a result of dust in the atmosphere. No, it's blue because it is the second full moon in a calendar month. The last blue moon was in March 2018; the next is due to occur in August 2023. Not very common, then. Just once in a blue moon, in fact. This one is a micro full moon too; it is full at the apogee, the point in its orbit farthest from the earth which means it will seem a little smaller than at other times. So, if you happen to see it, marvel at the wonders of God's creation, and especially at the moon which is, as the Psalmist says, 'the faithful witness in the sky.'
But be filled even more with awe and reverence for the One who is 'the faithful witness, the firstborn from the dead, and the ruler over the kings of the earth. To Him who loved us and washed us from our sins in His own blood, and has made us kings and priests to His God and Father, to Him be glory and dominion for ever and ever. Amen.' (Revelation 1:5-6)
Alexander Cruden writes: 'Witness' in Greek is 'Martys' or Martyr, and signifies one that gives testimony to the truth at the expense of his life. Jesus Christ is the faithful witness. He is so called because, as the great Prophet of his church, he hath revealed the will of God faithfully, plainly, and fully, so far as is necessary to the salvation of men. This Isaiah prophesied of him. (Isaiah 55:4) A witness to the people, to be a Prophet and a Teacher, to declare the counsel and will of God concerning the duty and salvation of men, to bear witness unto the truth, as Christ himself affirms before Pontius Pilate. (John 18:37; 1 Timothy 6:13) He is called the faithful witness, not only because he revealed all truth, and bare record to the truth before Pilate, but also because he sealed it with his blood; he died, and was a martyr of the truth, which proves him to be a faithful, constant witness.
The Lord Jesus also refers to Himself in this way when He speaks with solemn words to the church at Laodicea, that lukewarm, smug, self-satisfied church we read of in Revelation.
These things says the Amen, the Faithful and True Witness, the Beginning of the creation of God:
I know your works, that you are neither cold nor hot. I could wish you were cold or hot. So then, because you are lukewarm, and neither cold nor hot, I will spew you out of My mouth. Because you say, "I am rich, have become wealthy, and have need of nothing" - and do not know that you are wretched, miserable, poor, blind, and naked - I counsel you to buy from Me gold refined in the fire, that you may be rich; and white garments, that you may be clothed, that the shame of your nakedness may not be revealed; and anoint your eyes with eye salve, that you may see. As many as I love, I rebuke and chasten. Therefore be zealous and repent. (Revelation 3:14-19)
May we heed His warning, examine ourselves, and respond to His invitation:
Behold, I stand at the door and knock. If anyone hears My voice and opens the door, I will come in to him and dine with him, and he with Me. (Revelation 3:20)
Show me myself, O holy Lord;
Help me to look within;
I will not turn me from the sight
Of all my sin.
Just as it is in Thy pure eyes
Would I behold my heart;
Bring every hidden spot to light,
Nor shrink the smart.
Not mine, the purity of heart
That shall at last see God;
Not mine, the following in the steps
The Saviour trod;
Not mine, the life I thought to live
When first I took His Name:
Mine but the right to weep and grieve
Over my shame.
Yet, Lord, I thank Thee for the sight
Thou hast vouchsafed to me;
And, humbled to the dust, I shrink
Closer to Thee.
And if Thy love will not disown
So frail a heart as mine,
Chasten and cleanse it as Thou wilt,
But keep it Thine!
Anonymous; Plymouth Hymnal 1893