The Old Chapel, Darwen: A Warning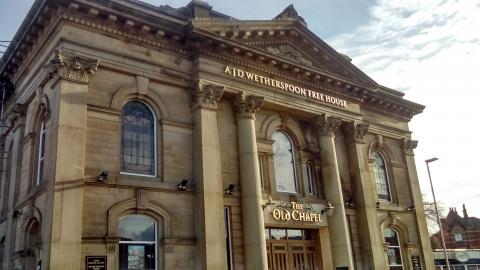 One of Darwen's most popular pubs used to be one of Darwen's most popular churches. The Wesleyan chapel opened in 1866. Unlike the Congregationalists at Belmont Meeting House who opted for a gothic style, the Methodists went for classical Corinthian with its pillars and pediments. Described as the town's finest building, it hosted some of the town's finest people. In 1969, the Methodists sold it off and it became a supermarket. In 2014, the chain J.D. Wetherspoons bought it, transforming it into a pub. What the chapel's founding fathers would have made of this I cannot tell. Actually, I can; they'd have hated it. So why did God allow it to happen? Was this chapel not built to His glory?
Firstly, God gives people what they want. The good folk of Darwen, like elsewhere in England, prefer supermarkets for their bellies and pubs for their bladders rather than churches for their souls. God ordains that we reap what we sow. On the Day of Reckoning, they that lived their lives as atheists (actual or default) will be granted the desires of their hearts- eternal separation from God.
Secondly, much of Methodism succumbed to anaemic liberalism in the twentieth century. Its famous leader, Donald Soper, suggested that the Scriptures 'represent an incubus' and proposed that Bible reading should be banned for 1965. Less famous men entered Methodist pulpits denying the resurrection, the existence of hell, the need for grace. Just as God removed His Spirit from Solomon's paganised Temple at the time of Ezekiel, so He withdrew from those churches that denied the gospel of grace:
Then the glory of the Lord departed from the threshold of the temple and stood over the cherubim. And the cherubim lifted their wings and mounted up from the earth in my sight. Ezekiel 10: 18-19.
Next Sunday, the Old Chapel in Darwen will be full of people. Few will care for spiritual things and will simply enjoy the booze and food in this pleasant and unusual venue. Thus, God gives them what they want, handing them over to the desires of their hearts. But to others, He says
And ye shall seek me, and find me when ye shall search for me with all your heart.
Jeremiah 29:13
The churches may have shut, but the God of heaven is still found by wise men who seek Him.