Old Oak Tree, Caton and the Old Rugged Cross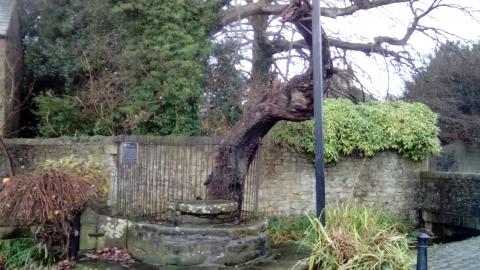 In the Lune Valley village of Caton, near Lancaster, is an ancient oak tree. So old is it that it leans upon the railings that surround it and a special post. It looks all but dead and is protected by a preservation order. It stands by a little bridge over a stream, on a spot called Fish Stones, where the monks from Cockersand Abbey sold their fish to the villagers in medieval times. Local tradition says the oak goes back to the druids; as these pagan priests were annihilated by the Romans in AD60, I suspect this claim pushes the boundaries of credibility a little too far. I could settle for it being medieval however; selling your catch from the river is far pleasanter in the shade of an oak. According to the information plaque attached to the railings, the old oak and its ancient paving stones are a symbol of the village.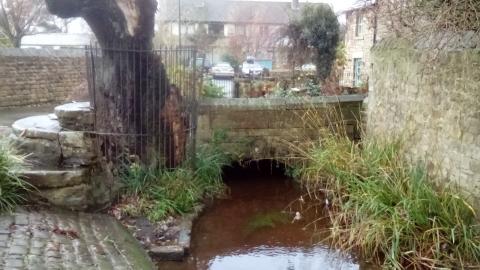 In one respect, this isn't a good civic symbol. Who wants to live in a village whose representation is one of age and decay, unable to stand by itself, feeble and frail? Of course, we don't see like that, and are rather charmed by its antiquity. The symbol of Christianity was also a tree, or rather two wooden beams in the shape of a cross. Unlike the golden, gilded crosses and crucifixes of our cathedrals, the original item was coarse and crude, a symbol of pain and oppression. It's very horror is its beauty; this expression of human cruelty became the glorious means by which our Heavenly Father would be reconciled to our fallen race. George Bernard's evocative hymn of 1913 sums it up rather nicely:
On a hill far away stood an old rugged cross,
The emblem of suff'ring and shame;
And I love that old cross where the Dearest and Best
For a world of lost sinners was slain.
Refrain:
So I'll cherish the old rugged cross,
Till my trophies at last I lay down;
I will cling to the old rugged cross,
And exchange it someday for a crown.
Oh, that old rugged cross, so despised by the world,
Has a wondrous attraction for me;
For the dear Lamb of God left His glory above
To bear it to dark Calvary.
In that old rugged cross, stained with blood so divine,
A wondrous beauty I see,
For 'twas on that old cross Jesus suffered and died,
To pardon and sanctify me.
To the old rugged cross I will ever be true;
Its shame and reproach gladly bear;
Then He'll call me someday to my home far away,
Where His glory forever I'll share.