The Ostro Stone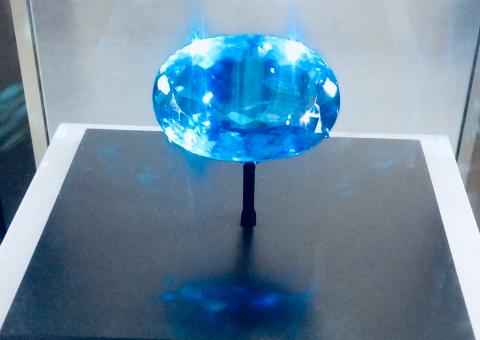 Weighing around two kilograms, the Ostro Stone is a flawless blue topaz gemstone, an impressive 9,381 carats, and is displayed in one of the world's most important mineral collections at London's Natural History Museum. Max Ostro, after whom it is named, was a Polish Jew who was sent to a Nazi death camp in 1943 but escaped by jumping off the train. He was later caught and sent to a labour camp, escaping Auschwitz once more by hiding in a grave, and living off raw potatoes. After the war, being the only one of his family to survive, he went to Brazil, and found this stone deep in the Amazon rainforest.
The stone is easily worth $10 million, though estimates are crude as nothing like it has ever been auctioned. Lent to the Museum by Max's son, chairman of Ostro Minerals, it takes pride of place.
Proverbs 8:11: "For wisdom is better than jewels; And all desirable things cannot compare with her."
Surviving the Holocaust no doubt reinforced Solomon's observation. Suffering in this life helps us see through the vanity of earthly treasures.