Otley's Fairfax Tomb: Fruitfulness, Beauty, Faith & Duty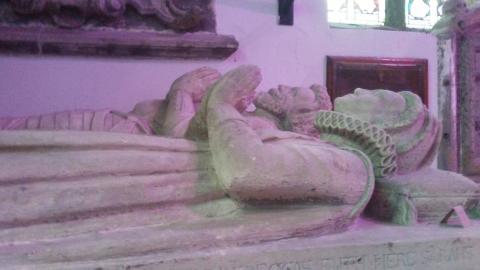 In Otley Parish Church is found the Fairfax Tomb. Thomas Fairfax lies beside his wife Ellen, hands clasped in prayer. Grandparents of the civil war general Thomas, their family was to play a pivotal role in shaping the nation's history. The tomb, however, does not exalt their famous grandson, nor the gallant grandfather, but the grandmother, Lady Fairfax. Referring to the wives of the patriarchs, the text around the figures reads: 
Here Leah's fruitfulness, here Rachel's beauty, here lyeth Rebecca's faith, here Sarah's duty.
The history books talk of the family's males, but the tomb speaks of the matriarch. Death is a great leveller, and the Lord sees the virtues of the quiet and meek, though the world cares little for such things as faith, duty, fruitfulness and inner beauty.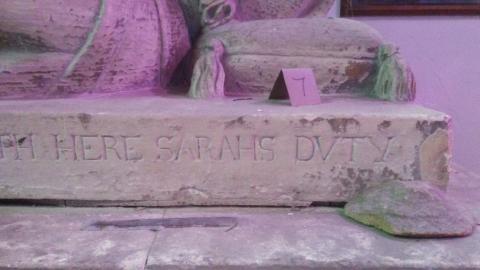 Who shall find a virtuous woman? for her price is far above the pearls.
The heart of her husband trusteth in her, and he shall have no need of spoil.
She will do him good, and not evil all the days of her life.
She seeketh wool and flax, and laboreth cheerfully with her hands.
She is like the ships of merchants: she bringeth her food from afar.
And she ariseth, while it is yet night: and giveth the portion to her household, and the ordinary to her maids.
She considereth a field, and getteth it: and with the fruit of her hands she planteth a vineyard.
She girdeth her loins with strength, and strengtheneth her arms.
Proverbs 31:10-17, Geneva Bible