Our Dead Cathedrals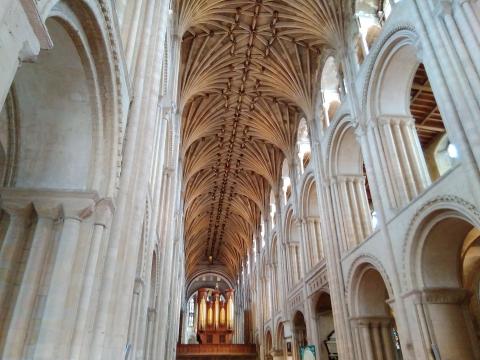 Among the statues, plaques and commemoration cluttering the walls and passages of Norwich cathedral, is a relatively modern one erected around 2007. It was honouring one Alan Brunskill Webster, and it asked us to remember him with thanksgiving. When I was growing up, our rent collector was called Alan Webster; he was a tall, thin man who wore a grey suit, though I doubted he was the subject of the cathedral's adoration. No, this fellow was a 'radical churchman', 'pioneer dean', a 'pastor and friend'. I decided to look him up. Back in the seventies as Dean of Norwich, he is said to have reinvented the cathedral, making it a more rewarding visitor attraction, a worshipping community, a beacon of hope. His obituary in the Church Times and Independent newspapers suggested that all other cathedrals took note and followed suit.
Well I've been round a good many English cathedrals in the past few years and I can tell you, the Very Reverend Webster's ideals did not go far enough. Norwich itself is the freshest in my mind. Apart from some daily set prayers, a bit of piped choir music and an elaborate Sunday service, where's the Christianity? Sure, you can light a candle for 20p, but there's no explanation as to why one might want to do this. Such a place is little more than an classic example of medieval architecture with its perpendicular arches and finely carved pews. The old tombs and memorials merely speak of death and decay. The various features are often dated and explained as though the place is one big museum exhibition. There's always a giftshop, of course, selling pots of jam, local history books, teddies in Tudor costume. If you're lucky, there'll be a few Good News Bibles or Marian knick-knacks. Otherwise, it's a gospel-free zone. "Oh, but the whole atmosphere of the place is soaked with 1500 years of worship" a plummy-voiced cathedral guide assures me. Right.
It's easy to spot problems, how about solutions?
Why can't a free tract be giving to every visitor? Why can't Bible verses be displayed throughout? People trained in evangelism might greet tourists rather than just those who can trot out the names of English kings or know their Early English from their Romanesque. Bibles might be sold at discount, cards with encouraging texts, invitations to a daily Christianity Explored course. Just think of the opportunities- a hundred thousand tourists passing through each year, from both home and abroad. In our de-Christianised country, this visit to a cathedral might be the only contact they have with Christ's gospel.
But no, this won't happen. Few bishops and deans, in whose clammy hands our cathedrals are held, have sympathy for evangelism. They're either pallid liberals with no concept of salvation, or they're red-faced Anglo-Catholics with nothing to offer but ceremony and ritual. The worst among them merely use the cathedrals' visitors to generate revenue; the less bad conclude that getting people inside is evangelism enough.
Once upon a time, I'd have lamented a cathedral becoming a concert venue. Now, I wonder if that's all they are good for. Handing them over to local councils would be a humiliation to the Church of England, but it would at least be honest and consistent. Architecturally and historically, English cathedrals are some of the best places in the world; as far as proclaiming the gospel of Christ, I've seen broken knicker elastic with more use.