Parks And Gardens 1: My Eye On You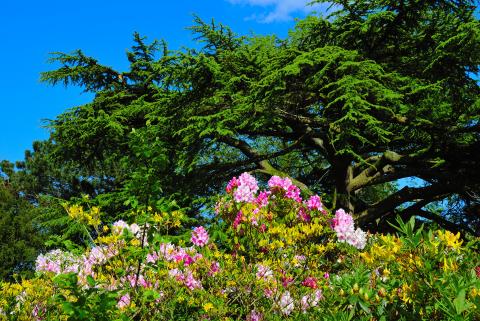 "You'd better take the lad with you and show him what to do." The foreman nodded in my direction and then addressed me directly: "You can work with Eddie Allen today, just to get you started."
It was my first day on the Parks. We were in the potting shed, at the far end of the park, where the river bent round and past the old maternity hospital, then on to the Technical College. "Potting shed" was a bit of a misnomer. It was part workshop, part tool shed, and part kitchen. There was a rough wooden trestle table at one end, with benches on either side of it. Next to that was a pot sink and a very old gas stove, one burner already alight, with an ancient kettle perched on top of it. 
I followed Eddie Allen out into the yard, and helped him load a wooden handcart with tools, buckets, brushes and a hosepipe. We set off along a winding tarmac path, passing ornamental rose gardens, a boating lake, and a café set amongst terraced floral beds on the slope above us. It was a fine morning, and the dewdrops were sparkling in the sun on the close-cropped lawns. I took a deep breath, and the air was sharp and tonic. 
Eddie Allen gave me the privilege of pushing the truck along, as he explained our task. The paddling pool had been draining overnight. Some idiots had been smashing bottles in it, so it couldn't be used until it had been cleaned out. I nodded.
"He's an old man," I thought to myself. "He must be ready to retire, surely." True, his hair was white, and his face was weather-beaten, and he seemed slight of stature, in those blue overalls that the older men tended to wear for work. But appearances can be deceptive, of course, and so it was with him. When we set to, it was obvious that he was as agile as I was, and twice as strong, and he had greater stamina than I would ever develop, even after two years of labouring in the open air.
After a while, he shook his head. "This is a lot worse than they said. There's half a ton of muck to shift. Go back and get a couple of big yard brushes and a sharp spade." I nodded and trotted off, at some speed. I was eager to please. I knew that the time-served gardeners didn't have a high opinion of unqualified youths, layabouts sent over from the Labour, or anyone who looked even remotely like a student.
I came back as quickly as I'd gone, and put the tools against the side of the truck. He looked down at them, and then he looked up at me. He was silent for a moment. He seemed to be thinking. He sighed. "Two things, lad. First: in this job, don't run, just take your time. Go at it steadily and get it done right. Second: this isn't a spade, it's a shovel." He was speaking slowly now, slowly and patiently, without a trace of sarcasm. "A shovel has sides on it, and it's broader than a spade. A spade is narrower, and it's sharper and it's got no sides on it. Now, go back and get me one."
I did as I was told. I didn't mind, because he didn't shout, he didn't swear and he wasn't sarcastic – though a close observer might have detected a slight smile on his face as I set off for the second time. During the rest of the day, I gave him my full attention. There was a lot to learn.
He seemed to be keeping his eye on me over the next few months. The other older men were okay, once they were satisfied that I wasn't a workshy dole-dosser in the making, but he went out of his way to help me. Seeing me tackling a steep and slippery grass slope with a hover mower, he called me down and explained how to tether it to a tree with a rope and work it so that if I slipped, I wouldn't end up minus a couple of toes. No one else had thought to warn me.
He was better at giving advice than the two Teds. When they were showing me how to use a scythe, they said I should wear cycle clips or roll my socks up over my trouser bottoms. A startled field mouse would run for any opening, and the nearest one might be my trouser leg, they said. They were sniggering, so I didn't know whether to believe them or not; but the next time out I wore my shorts, which seemed to cause them even more amusement. (N.B. Young people: don't try this at home! Scything should not be attempted by unqualified persons, especially in shorts.)
Reading psalm 32 recently, I noted that David's account of sin, distress and deliverance suddenly takes on the tone of wisdom literature.
You are a hiding place for me;
you preserve me from trouble;
you surround me with shouts of deliverance. Selah.
I will instruct you and teach you in the way you should go;
I will counsel you with my eye upon you. (Ps.32.7-8)
Is this "I" David, as some commentators would have it, offering counsel based on his own experiences, or is it God Himself, speaking both to and through David, as others have suggested? R. C. Sproul says: "God promises to direct the psalmist in the way of the covenant, in the way of righteousness."
Either way, I like the idea of one who has his eye on me for a good purpose, one who can offer me sound counsel, and one who will direct my steps in the way that I should go.
Notice also that the psalm continues with an admonition.
Be not like a horse or a mule, without understanding,
which must be curbed with bit and bridle,
or it will not stay near you. (Ps.32.9)
Better by far to pay attention to God's good counsel willingly than to have to be reined in by His rebuke.
Eddie Allen had a way of dealing with young lads who got above themselves. I didn't realise it until it was pointed out to me, but one of his eyes was made of glass. It was by no means obvious. This eye could be removed from its socket, if he so chose. 
You knew what was going to happen when he sat across the trestle table from some recent arrival, someone who just wouldn't be told. He would wait until the young man was in full flow, or filling his face with a sandwich. Then he would lean forward a little, cupping his hand over his eye as he removed it, holding it between forefinger and thumb. Whipping his hand away, he would lunge forward, thrusting the false eye right into the other's face, exclaiming, "Look out, lad! I've got my EYE on you!" 
Invariably the victim would fly backwards, fall over the bench behind him, and bang his head on the brick wall, ending up on the floor. It was a painful lesson, but it did some of them a power of good.
Psalm 32 ends on this note.
Many are the sorrows of the wicked,
but steadfast love surrounds the one who trusts in the LORD.
Be glad in the LORD, and rejoice, O righteous,
and shout for joy, all you upright in heart! (Ps.32.10-11)