Planting Trees in a Treeless Place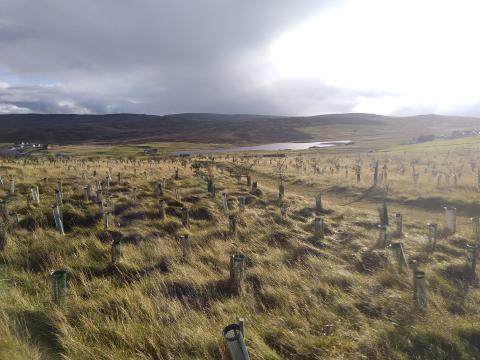 Deforestation is the permanent felling of forest-land for other uses. Our nation and planet used to have much more forest than is currently observed. The World Bank estimates that about 3.9 million square miles of forest have been lost since the beginning of the 20th century. As we crave more fuel, land for agriculture and space, down go the trees. Shetland, known for being treeless, was once forested. Pasturing sheep may have prevented natural rejuvenation, and this beguilingly bleak and lunar landscape is now characterised by the absence of trees.
Still, trees are increasingly appearing on Shetland, as people plant them in more sheltered spots. Michaelwood in Aith, planted in memory of Michael Ferrie, a young musician who died in 1996 from cancer, and Da Gairdins, are good examples.
Is Psalm 1, the godly man is likened to a sapling in a treeless place:
And he shall be like a tree planted by the rivers of water, that bringeth forth his fruit in his season; his leaf also shall not wither; and whatsoever he doeth shall prosper.
Similarly, in Jeremiah 17:
Blessed is the man that trusteth in the Lord, and whose hope the Lord is. For he shall be as a tree planted by the waters, and that spreadeth out her roots by the river, and shall not see when heat cometh, but her leaf shall be green; and shall not be careful in the year of drought, neither shall cease from yielding fruit.
Our world is barren and parched, but the Great Gardener has been busy planting trees these past millennia. He does this for the fruit they bring Him, though in so growing, they also offer shade, beauty and inspiration to those around them.