Po Lin & Christ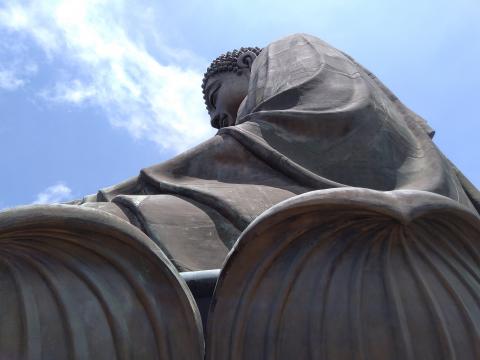 At Ngong Ping Plateau, on Lantau Island, Hong Kong, visitors are in for a treat. A cable car carries them over mountains and forest, soaring into the skies. One descends in view of the gigantic Tian Tan Buddha statue sitting next to a venerable monastery boasting traditional Chinese elegance. It's a little commercial, naturally, with shops selling trinkets and souvenirs. The temples are ornately built with swirling dragons and colourful roofs. Golden Buddha statues gaze serenely at awed Westerners, nonchalantly accepting offerings of fruit and nuts. For a modest donation, simple but wonderfully tasty vegetarian meals are served at the kitchens, though somewhat less trouble is employed in keeping clean the toilets; those who venture to use them are truly in need of relief.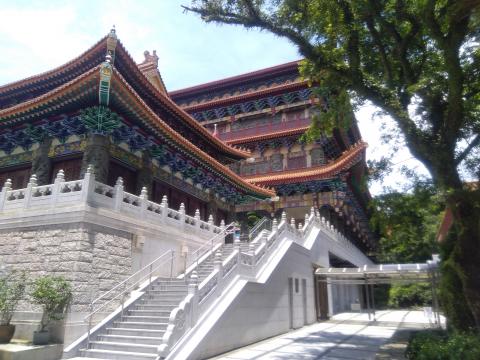 The 'Big Buddha' itself, presumably translated rather literally from the Cantonese, is a marvel to see. It rises 112 feet tall, weighing over 250 tons, constructed from 202 bronze pieces. Visitors may enter the statue via a door into the lotus flower on which it sits. Inside, they are treated to lots of Chinese text, a shrine and then thousands of macabre photographs of the dead. The grainy quality and old-fashioned hairstyles betray their subjects' age. How much they paid for that privilege, I cannot tell. But to be memorialised in the Big Buddha's bosom only feet from his cremated remains must have been worth the price. Around the statue's base are further depictions of the Six Perfections of generosity, morality, patience, wisdom meditation and zeal. There is no doubt that this place inspires people to be good. I saw many a Westerner morph from tourist to pilgrim as they bowed at the shrines and soaked up the hallowed atmosphere. I felt no sense of being unwelcome; the views were fantastic and the temple complex and exquisite statuary I could admire as fine artwork without engaging in religious devotion. Something though was very wrong; it was articulated on the napkin packet which came with my vegetarian meal, of all places:
Less evil deeds
More kindness
Do more charity works
Can store some merits
Not the best English, but the meaning is clear enough: be as good as you can, and the goodness you achieve will be stored up for when you need it- death and afterwards. The offerings, the paid-memorials in the Buddha's bowels, the meatless meals- all were good deeds cleverly, though sincerely, performed by folk calculating their need for goodness. Like a man looking to his retirement who has called a meeting with a pensions adviser, so these folk have set aside a little nest egg of virtue to see them safely over the Styx. 
This is the message and advice of all religions: be good, do good, avoid badness and you'll be alright in the end. On my rail journey to Cardiff from Newcastle, a convert to the Orthodox faith assured me that God rewarded those who try to be holy with heaven. But what if our trying is not good enough? What if my 'charity works' are wholly inadequate and my storage leaky and sieve-like? The Psalmist laments in 14:1-3:
The fool has said in his heart,
"There is no God."
They are corrupt,
They have done abominable works,
There is none who does good.
The Lord looks down from heaven upon the children of men,
To see if there are any who understand, who seek God.
They have all turned aside,
They have together become corrupt;
There is none who does good,
No, not one.
My Jesus has no gigantic statue inside which I may deposit a photograph. Salem Chapel you will find in no tourist guide, praising its architecture nor lauding its style. It cannot be accessed by a wonderfully invigorating cable car journey and worshippers are greeted by no sculptures of gold. What you will hear, however, is the old gospel of grace and the wonderful Saviour in whom we His lovers are hid:
Before the throne of God above
I have a strong, a perfect plea;
A great High Priest, whose Name is Love,
Who ever lives and pleads for me.
My name is graven on His hands,
My name is written on His heart;
I know that while with God He stands
No tongue can bid me thence depart.
When Satan tempts me to despair,
And tells me of the guilt within,
Upward I look, and see Him there
Who made an end of all my sin.
Because the sinless Saviour died,
My sinful soul is counted free;
For God, the Just, is satisfied
To look on Him and pardon me.
Behold Him there, the risen Lamb!
My perfect, spotless Righteousness,
The great unchangeable I AM,
The King of glory and of grace.
One with Himself, I cannot die;
My soul is purchased by His blood;
My life is hid with Christ on high,
With Christ, my Saviour and my God.
Charitie Bancroft