Prophetic Leggings and Christian Tarot Cards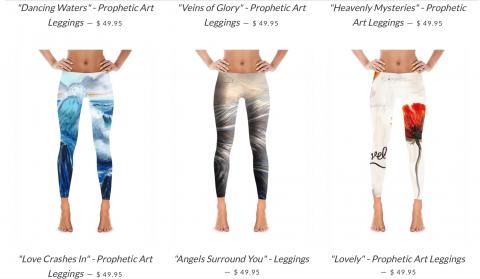 It would seem that number of churches in Clitheroe and Blackburn are affected, or rather infected, by the teachings of Bethel Church, California, led by false prophet Bill Johnson. How intelligent, let alone Bible-believing people can fall for this lunacy is beyond belief. I always thought that Satan's deceptions were subtle and clever. On this occasion, he's been downright lazy, but foolish people have proved just as willing to be hoodwinked.
Theresa Dedmon is the Creative Arts Director at Bethel Church and the Bethel School of Supernatural Ministry in Redding, California, and has been since 2003. She claims that 'creativity is a powerful key in helping people experiences the power of God's love and compassion'. Funny, I always thought the blood of Christ quite useful in this area. Well in true Redding style, she has created a range of women's leggings, retailing at fifty dollars, the wearing of which 'enhances your awareness of God's presence, and helps you become a walking encounter of Heaven's message to those around you'. But for the Mosaic prohibition on wearing women's clothing, I'd be tempted to buy a pair myself with that sales promise.
The "Dancing Waters" - Prophetic Art Leggings come in five sizes, and invite you to allow this design to 'take you into another place where the eternal touches earth.'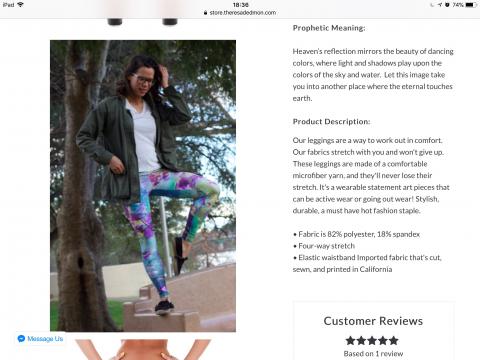 One satisfied customer's enthusiastic review states "I love wearing them with my tall black boots and a cardigan! I know the design releases visions of Heaven and I love that wearing fashion releases the love of God! Thank you!!!"
Of course, you might think that all this harmless enough if a little twee. But what about the tarot cards, ahem, I mean Destiny Cards this Bethel movement and its obnoxious networks produce?
Theresa Dedmon wrote last month a defence of an organisation called Christalignment, even claiming 'I, and my team, have seen thousands of people come to Christ as we have passed out our Destiny Cards to people in all sorts of environments and events.' Do you want to know about your destiny and future? The Christalignment website says:
The Christalignment team use at least 5 different types of cards in Destiny Readings. These are not necessary for an intuitive reader, as we are all hearing from the third heaven realm, but greatly enhance the reading. 
We believe they are more predictive and higher than most cards, and can address a current life question that you may have. Card readings with Christalignment are always followed by the reader taking the client into an encounter in the highest realm. Often colour is seen and it is in this realm that answers come for poignant questions that clients have and lives are changed.
Wouldn't you think the words above had come from an occultic tarot reader? The Christalligment organisation has close links to Dedmon and the Bethel brigade. Here's some more paganism-dressed-up-in-Christian-clothes: 
We draw from the same divine energy of the Christ spirit, as ancient followers did and operate only out of the third heaven realm to gain insight and revelation.
Christalignment teams are trained in destiny reading, Presence therapy, trauma recovery, entity cleansing, relationship alignment and physical healing using divine energy. Dream interpretation is done using the Hebraic method which can facilitate deep spiritual alignment. Christalignment encounters coming from the third heaven realm bring lasting life transformation and guidance.
Practices not dissimilar to this were evident at the Clitheroe Churches Together barbeque in Summer 2014. To think that this great evil is sitting on our doorstep. Sound the battle cry!
For the time will come when they will not endure sound doctrine, but according to their own desires, because they have itching ears, they will heap up for themselves teachers; and they will turn their ears away from the truth, and be turned aside to fables.
2 Timothy 4:3-4