Puzzling Pictures 4: Unwrapped!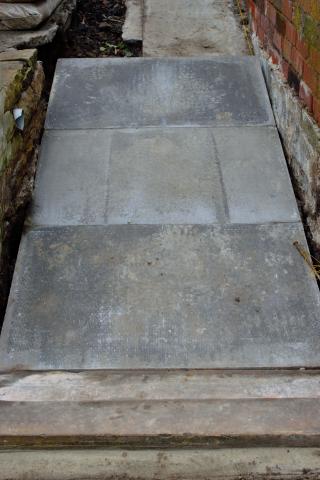 I wondered where all that sand and cement had gone. Now I know. It's under and around that slab of stone in the foreground of the photo above. If you turn back to last Saturday's blog entry, you can see some more pictures of the start of this project. "That's the most important part," Brian had said. "You've got to get that right, because everything else depends upon it."
Now you can see what he meant. The foundation stone has to be solid and substantial. If it shifts or breaks, the whole of the flagged slope above it will be at risk. It also has to be properly proportioned, laid level, and at just the right height, since every flagstone above takes its proper place from that foundation. 
Any serious student of the bible will have noticed the many and varied technical terms, types, illustrations, and analogies drawn from the world of building. Not every technical term is easy to translate from the original, it seems, and not every commentator knows the difference between a cornerstone and a capstone, which can be confusing.
However, in Isaiah 28.16, we read: "therefore thus says the Lord God, 'Behold, I am the one who has laid as a foundation in Zion, a stone, a tested stone, a precious cornerstone, of a sure foundation'." The immediate context is that of God's judgement on Israel by Assyria; the New Testament writers make it abundantly clear that this "sure foundation" is the Lord Jesus Christ, and the work that He has accomplished.
Writing to the Ephesians, "you Gentiles in the flesh", Paul says: "So then you are no longer strangers and aliens, but you are fellow citizens with the saints and members of the household of God, built on the foundation of the apostles and prophets, Christ Jesus himself being the cornerstone, in whom the whole structure, being joined together, grows into a holy temple in the Lord. In him you also are being built together into a dwelling place for God by the Spirit." (Ephesians 2.19-22)
Peter, addressing those who are being persecuted for their faith, writes as follows.
"As you come to him, a living stone rejected by men but in the sight of God chosen and precious, you yourselves like living stones are being built up as a spiritual house, to be a holy priesthood, to offer spiritual sacrifices acceptable to God through Jesus Christ. For it stands in Scripture: 'Behold, I am laying in Zion a stone, a cornerstone chosen and precious, and whoever believes in him will not be put to shame.'" (1 Peter 2.4-6)
Looking at the photo above, you might not be overly impressed. It doesn't look like much at the moment. But I've seen the evidence of our builder's previous projects. The plastering he did for my brother-in-law is well-nigh perfect. The stone flags he laid in our front garden are a work of art. 
He comes when he likes and he works the way he wants to do, and his timetable is his own, not ours. But I have confidence in him, because I've seen what he can do.
I note the title of an article in today's Daily Telegraph: "The Archers' Simon Williams on the death of religion: 'Sundays now are more for B&Q than C of E.'" Well, the churches of this land may be in a sorry state: but His Church will continue, and go on to glory, in spite of all appearances to the contrary.
I have seen what my Saviour can do, and I have every confidence in Him when He says: "I will build my church, and the gates of hell shall not prevail against it." (Matthew 16.18) His Church has the finest and firmest of all foundations; as Paul puts it: "For no one can lay a foundation other than that which is laid, which is Jesus Christ." (1 Corinthians 3.11)