Ralph Cromwell & Tattershall Castle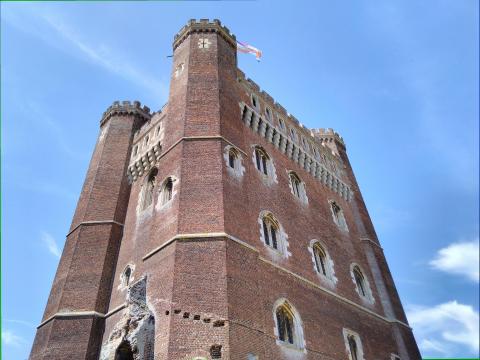 Tattershall Castle in Lincolnshire is a real gem of a building. It's made of a rather charming fifteenth-century red brickwork, not unlike that of Hampton Court Palace, and sits amid the idyllic bulrushes of its moat. It's not clear whether it's a defensive property with a mind for comfort, or a comfortable house pretending to be fortified. 
It was built by Ralph Cromwell, no relation of the Oliver, but still accustomed to the reins of power. He was the Lord Treasurer of England for over ten years as well as a substantial landowner in his own right. He had no children, but his two nieces married into noble families, and they expected to be his heirs. Yet he later cut them out of two thirds of the inheritance. Around that time, he resigned his lucrative post, claiming 'the grete disease of sikenesse that he hath and is likely to have if he sholde longer occupie the said office'. With the bulk of his wealth, he wrote a new will, purchasing 3000 masses for his soul, constructing a huge new church by his beautiful castle and asking his friend William Waynflete, Bishop of Winchester, to choose further beneficiaries.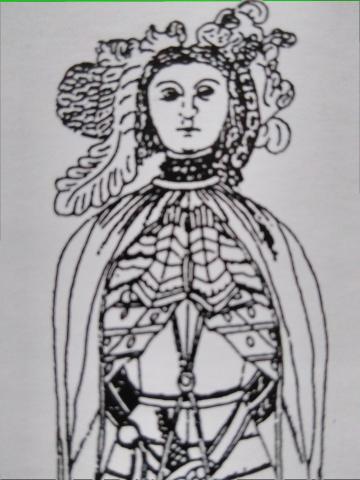 Why should a man upon whom fortune had smiled so warmly suddenly wish to use his wealth for good rather then self? An attempt had been made on his life in 1449 as he attended the King's Council; the simmering rivalries which would lead to the Cousins' War, better knows as the Roses, were also being felt. Storm clouds were gathering across England and within Ralph's own heart.
Aged 62 he died, a visiting bishop reporting he had "helde a glasse before the mouthe of the saide lorde and then appeared no lyf but was passed than whan god had so determined." So passed Ralph Cromwell into eternity, no longer a lord, a landowner or the nation's treasurer. 
Would those 3000 masses suffice? How about the new chapel in his new collegiate church? How about being buried under its altar? Won't God be impressed with all those good works he did? How about building all those almshouses which still stand? Just think how many poor folk he helped, even after his own passing.
Sadly, for Ralph, the Bible is clear that no quantity of good work we perform can ever be enough to cleanse a soul. Our goodness cannot cancel out our badness, for the badness is very bad, and the goodness not very good.
"Not everyone who says to Me, 'Lord, Lord,' shall enter the kingdom of heaven, but he who does the will of My Father in heaven. Many will say to Me in that day, 'Lord, Lord, have we not prophesied in Your name, cast out demons in Your name, and done many wonders in Your name?' And then I will declare to them, 'I never knew you; depart from Me, you who practice lawlessness! 
Notice that the Lord Jesus, quoted here in Matthew 7: 21-23, rejects the good deeds offered him in return for a place in heaven's kingdom. Rather, He looks for those who do the Father's will. Primarily, this is knowing Christ; only flowing from this knowledge does God behold our good deeds. Without knowing Christ, out good works are nothing but bartering chips, evidence of pride, man-made attempts to gain heaven via a wobblesome and swaying Babel's tower.
Let us hope that Lord Cromwell, despite the ignorance and darkness of the pre-reformation Church, knew the Lord Jesus, rather than just seeing Him as a market trader, exchanging heaven's bliss for earth's virtue. If so, he'll be spending a happy eternity with his more famous namesakes, Thomas and Oliver.