Razorbills or guillemots?
On the cliffs around the UK the seabirds are gathering as the breeding season begins. The sheer, white cliffs of Bempton and Flamborough are home to many thousands of gannets, gulls and auks – puffins, razorbills and guillemots. The razorbills and guillemots – hard to distinguish from each other when out at sea or when flying – have already begun to claim their nesting sites, and it is then that it becomes easier to tell them apart. Not that they build nests; the guillemots choose narrow rocky ledges where they line up side by side, each bird almost touching its neighbours.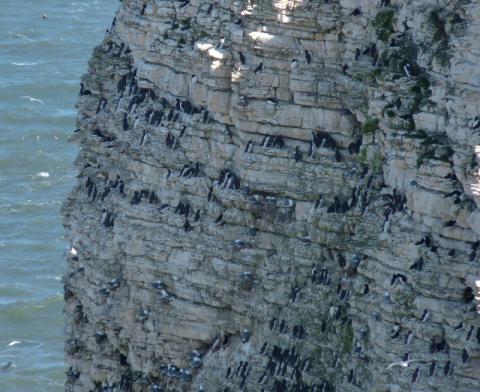 The parents take turns to incubate the single pear-shaped egg, holding it between feet and body. The shape of the egg enables it to spin round on the ledge when they change over, rather than rolling off into the sea below. After a four to five week incubation period, followed by about the same length of time as the chick grows, the parents will accompany it as it plunges into the sea and swims away – usually a mass exodus for safety from black-backed gulls. That would certainly be a sight to see, though it usually occurs at night.
Razorbills, on the other hand, prefer a bit more personal space, nesting in rock clefts or among broken rocks. Clearly they would be better at social distancing!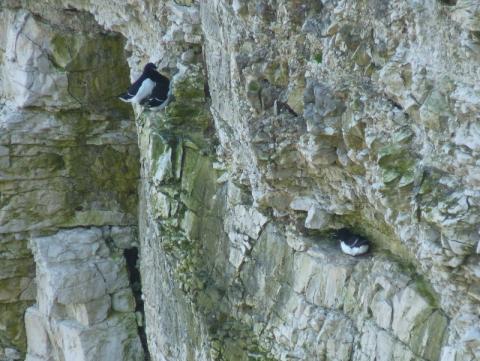 We all vary, of course, in the amount of contact we like to make with other people. Yet it occurs to me that where God is concerned human beings are very good at distancing.
"Come unto Me," invites the Saviour, "all you who are weary and heavy laden, and I will give you rest." (Matthew 11:28)
"No thank you," we reply. "We're autonomous human beings, captains of our own ships."
"Come now, and let us reason together," says the Lord, "Though your sins are like scarlet, they shall be as white as snow; though they are red like crimson, they shall be as wool." (Isaiah 1:18)
"What? Me, a sinner? Anyway, I don't believe God even exists!"
And so we keep God at a distance.
Or maybe we have been converted, we do love the Lord, but somehow a distance has opened up.
"Nevertheless," the Lord Jesus says, "I have this against you, that you have left your first love. Remember therefore from where you have fallen; repent and do the first works..." (Revelation 2:4,5a)
Whether we are coming for the first time, or coming back again, the grace and mercy the Lord extends to us is truly wonderful!
Who is a pardoning God like You, pardoning iniquity and passing over the transgression of the remnant of His heritage?
He does not retain His anger forever, because He delights in mercy. He will again have compassion on us, and will subdue all our iniquities.
You will cast all our sins into the depths of the sea.
Micah 7:18-19
Nearer, still nearer, close to Thy heart,
Draw me, my Saviour, so precious Thou art;
Fold me, O fold Me close to Thy breast,
Shelter me safe in that 'Haven of Rest'.
Nearer, still nearer, nothing I bring,
Nought as an offering to Jesus my King;
Only my sinful, now contrite heart;
Grant me the cleansing Thy blood doth impart.
Nearer, still nearer, Lord, to be Thine,
Sin, with its follies, I gladly resign,
All of its pleasures, pomp and its pride:
Give me but Jesus, my Lord crucified.
Nearer, still nearer, while life shall last,
Till all its struggles and trials are past;
Then through eternity, ever I'll be
Nearer, my Saviour, still nearer to Thee. 
Leila Naylor Morris