Reconciliation: St Luke's, Liverpool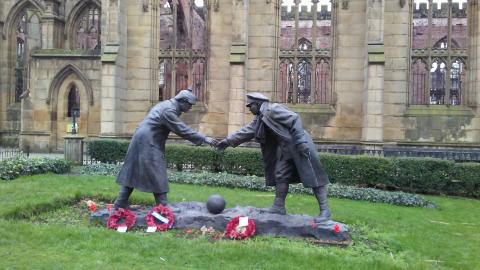 By St Luke's Church, Liverpool, is a rather moving statue. It shows two men, stooping to shake hands- the distance at which they stand from each other is not quite close enough for affection, and they must bend low to reach. One is dressed in the uniform of Imperial Germany, the other a British Tommy. The two men represent all those who, wearing those same helmets and trench coats, had formerly been offering each other shells and bullets rather than outstretched hands. 
This poignant war memorial is rendered more stirring for its setting. The ruined, bombed-out shell of the aforesaid St Luke's was destroyed in 1941 on account of the visiting Luftwaffe. The church was never rebuilt, serving instead as a startling reminder of war's destructive legacy. 
The Apostle tells the Corinthian church in 2 Corinthians 5: 18-19:
Now all things are of God, who has reconciled us to Himself through Jesus Christ, and has given us the ministry of reconciliation, that is, that God was in Christ reconciling the world to Himself, not imputing their trespasses to them, and has committed to us the word of reconciliation.
Upon the scarred, ravaged earth that was once called paradise, the righteous Potentate of the universe deigned to reconcile Himself with the vile and bloodied children of Adam. It was no mutual hand-wringing which effected this beautiful restoration; it was entirely based upon the gracious and sovereign decrees of Heaven. 
"Therefore, having been justified by faith, we have peace with God through our Lord Jesus Christ" Romans 5:1
He deigns in flesh to appear,
widest extremes to join;
to bring our vileness near
and make us all divine:
and we the life of God shall know,
for God is manifest below.
-Charles Wesley