Red Bistort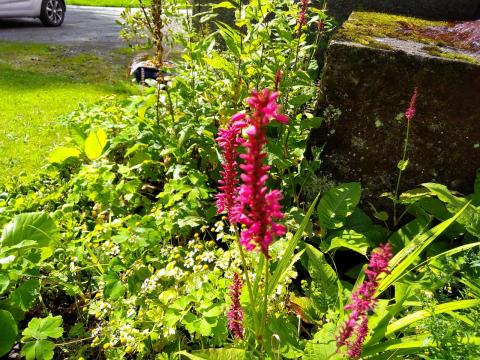 Red Bistort is an attractive flower I found growing in the grounds of Tottlebank Baptist Church, up in Cumbria. Its bloom, though pretty, is not the plant's most useful aspect. Its roots are rich in gallic and tannic acids endearing the plant to the injured; they have been used to remedy wounds for centuries. Its roots appear twisted (the name means twice-twisted) and have given it the name snakeroot in North America, which it shares with other species. Of the Lord we are told:
He heals the broken-hearted
And binds up their wounds. Psalm 147:3
An untreated wound becomes septic and causes yet more damage. Each of us was born bearing Eden's wounds; each one of us goes about wounding others and receiving wounds in return. The gospel urges us to come to Him who has 'healing in His wings'. The Lord Jesus is more than a beautiful God, he is the Great Physician. When fastened to that cross, He was the image of sinful man, the snake atop Moses' staff. Truly, our snakeish roots were healed by such a One. 
He had compassion on them and healed their sick. Matthew 14:14b