Ripon Cathedral: Springing like a Tiger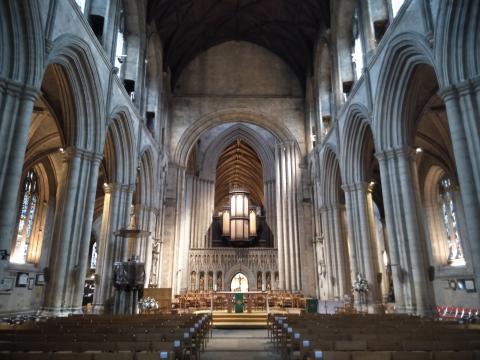 I called at Ripon Cathedral last week. A fellow member of the Bench who shares my interest in architecture told me it was 'austere'. This appealed to my puritanism but I found the place as decorated and aesthetically pleasing as any other major cathedral. The second surprise of the day was how welcoming it was. Although I had to purchase, for three pounds, the right to take photographs, entry itself was refreshingly free. One of the welcome team, a moustachioed gentleman, was especially amicable. At one point, I explained that I was taking photographs for a church blog in whih he took and interest. Perhaps he's reading this.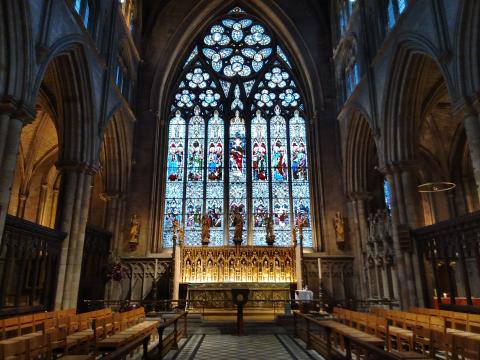 As I entered the huge enclosed area full of gothic arches and vaulted ceilings, my eyes were involuntarily drawn to the various features of so wondrous a space. There were statues of kings, several of the Virgin, highly decorated altars and complicated stained glass. It was the pulpit, though, that caught my attention. It looks Art Nouveau, which was most popular from 1890 until the Great War, after which Art Deco became the norm. The pulpit, below, really stands out; copper and marble are not usually so closely acquainted in the making of church furnishings. Its designer, Henry Wilson, wanted it to "spring like a tiger out of its lair", thus drawing attention to the sermon. And well might the preacher appreciate a little help while tasked with delivering a sermon in that place. With so much else drawing away one's gaze, even a skilled communicator might appreciate the helping hand that an imposing copper-marble combo might offer him.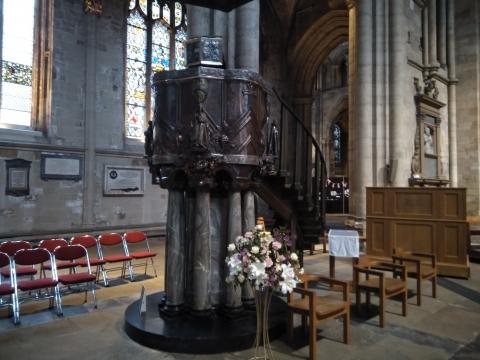 Beyond the pulpit, through the quire, a lone Bible sat on a lectern, facing the gaudy high altar. Few visitors would stop and examine this, being more drawn to the exciting features within and beyond: the fifteenth-century carvings, the elaborate altar cloths, the ancient misericords. The difficulty with a huge and historical cathedral is the sheer distraction the place might offer from preaching the Bible. In this, protestant dissenters with our plain chapels might think we have the advantage. There is little else to view at Salem Chapel save our large pulpit. Yet we too can become unfocussed and preoccupied, discreetly side-lining the proclamation of truth as we secretly ponder other, less pressing things.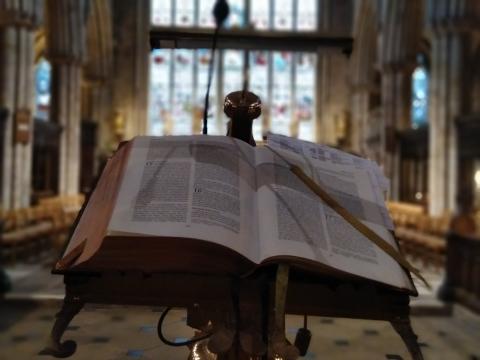 I enjoyed my visit to Ripon, and I trust that those who worship there will hear the plain truth of the ancient gospel- with or without two millennia of accumulated traditions and trinkets. The word of God is sharper than any two edged sword; may is spring forth like a tiger out of its lair. 
"Therefore whoever hears these sayings of Mine, and does them, I will liken him to a wise man who built his house on the rock: 25 and the rain descended, the floods came, and the winds blew and beat on that house; and it did not fall, for it was founded on the rock." Mattew 7:24-25