Rivington Pike
I climbed Rivington Pike last month. This is adjacent to Winter Hill, whereon sit those huge aerials; it is part of the West Pennine Moors. From its summit, one may observe the Mancunian metropolis, the Welsh mountains and the English Lakeland fells. During the climb, one passes the remains of Lord Lever's Edwardian pleasure park: delipidated arches and former boating lakes leave a sense of decayed grandeur. Two large towers are built on the hill, the Pike Tower at the top (above), and the Pigeon Tower at about two thirds up (below). The latter looks like the kind of place a pantomime witch might make her abode. Yet it is the hill's natural beauty that most rewards the walker. Indeed, there were many there seeking that reward, for I was surprised just how busy it was. The paths were so worn one had to walk to their side for fear of stumbling over the ruts and furrows.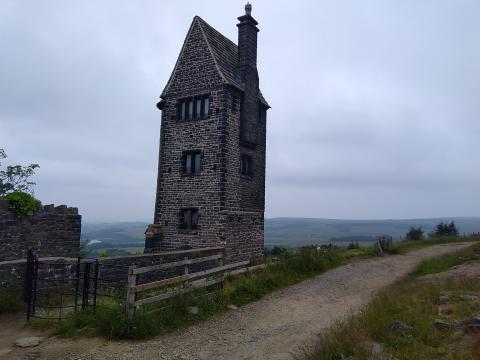 Pigeon Tower
As I stood at the top, I began my old habit of people-watching rather than view-admiring. Gossipy women passed the time with tales of their neighbours. Three youths ran up the final stretch, while a puffing fat man looked on. Enterprising teachers at a local primary school had route-marched their classes to the summit. This is certainly one way of keeping listless children occupied during the summer term. I wondered why so many of us feel the need to walk up hills when flat routes are far easier. There are plenty of parks and towpaths which offer distance but without those aching calves and thighs, and need for breath to be regularly caught. Perhaps it is the impressive landscapes, the sense of achievement, the right to 'tick off' and claim it. In Psalm 24, the psalmist asks:
Who shall ascend into the hill of the Lord? (verse 3)
What is the Lord's hill? It likely refers to Zion or Moriah of Jerusalem, upon which the living God communed with men. The follow-up seems to confirm this:
Or who shall stand in his holy place?
He helpfully answers his own question, saving the reader the need to speculate. Ascent of this hill has nothing to do with physical fitness, correct footwear or clement weather. It is to do with one's moral state:
He that hath clean hands, and a pure heart; who hath not lifted up his soul unto vanity, nor sworn deceitfully.
Sadly, every single one of us suffers from an impure heart, unclean hands, a vain soul and a lying mouth. Each one us is excluded from God's presence; the hill is too steep to manage. Yet up another hill- Calvary- Christ dragged a heavy cross, that He might be crucified upon it, releasing to us His righteousness and merit. By His grace, our hearts, hands, mouths and very souls are both declared clean and made clean. Therefore
He shall receive the blessing from the Lord, and righteousness from the God of his salvation.
It is interesting that hades or sheol are described as being a place below:
I become like them that go down into the pit (Ps 28:1) and
The heathen are sunk down in the pit that they made (Ps 9:15).
Hell's path is an easy descent, a broad road, a popular walking route. The path to Zion is hard, steep and narrow, and some appear to stumble along the way. Yet the hard work was done by Christ.
Chorley Council, the pike's administering body, erected a fence by the Pike Tower with a few inspirational cliches to enrich the walker. I approved of the sentiment but would have preferred a scripture verse, something an English Council would have been loathe to write. I think Psalm 24:3 would have been most appropriate.