Roman Road, Croasdale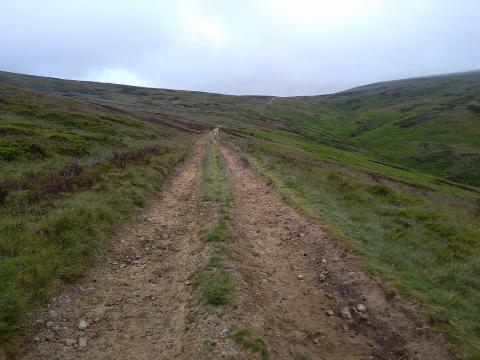 Bowland is an area of high land between Lancaster and Clitheroe. When I, living to its south-east, wish to visit my Lancaster relations to its north-west, I have three options. I may skirt its south and west, via Preston; I may circumnavigate its north and east via Settle and Kirkby Lonsdale; or I may go through it, via its narrow trough road. The latter is steep and narrow; though it has fewer miles, it takes longer to drive, for I must sometimes be in second and third gear.
My recent walk through Bowland took me over Croasdale Fell, which continues to be traversed by a Roman road. It starts at Ribchester and goes north via Cow Ark up to Burrow Fort near Cowan Bridge, near Kirkby Lonsdale, spanning approximately 30 miles. The current path joins the Roman road near Shooters Clough, before the 'modern' track diverges a few miles further north. Some of the culverts and old stones on which we trod might have been laid by those very legionaries whom emperor Vespasian ordered to occupy Britannia's north. It was quite moving to think that contemporaries of the apostles, some of whom might have seen action in the Jewish revolt of 66-70, during which Herod's Temple was destroyed, might have surveyed these very same fells.
We were journeying for our love of scenery, but the Romans were made of less romantic stuff. Why would they build a road through the area's most difficult terrain? 3-4 years before the great revolt in Judea, Boudicca led a revolt of the Iceni Britons. Much of the north remained 'uncivilised', and there was a push to build military bases and connecting roads throughout those untamed regions. The road upon which our chapel stands was built then, too. So the road over Croasdale existed to allow troop movements and to demonstrate to the petulant locals that no-where was outside Rome's reach. There was little point raiding and hiding in the hills if Roman cavalry were regularly patrolling the area, summoning reinforcements when necessary.
Rome was a successful imperial mistress for refusing to tolerate 'no-go' areas. I suspect this is why Roman troops were able to keep better order than some of our police forces in our sink estates. So the church, too, must be prepared to enter no-go areas- whether that be cold, grey Communist states, hot and hostile Islamic dictatorships or liberal, rainbow-painted Western nations, which tolerate everything but gospel truth.
Go ye therefore, and teach all nations, baptising them in the name of the Father, and of the Son, and of the Holy Ghost. Matthew 28:19