The Royal Mews & Christ's White Horse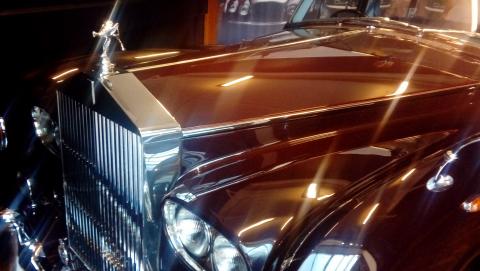 Monarchs travel in style. At the Royal Mews at Buckingham Palace, visitors may see a number of the Queen's cars, typically burgundy Rolls Royces from the mid-twentieth century, all bearing her royal crest and fitted with extra large windows that the crowds may see her clearly. Truly, this is one of the most beautiful cars I have ever seen. Unlike a stretched limousine which looks as common as it is impractical at turning corners, this car oozes class.
The car is itself outshone by the carriages and landaus in the collection. The most stunning is the State Gold Coach. Like something out of the Cinderella story, it is a huge 7m long by 3m, and is so heavy it cannot exceed walking pace even when pulled by eight horses. Built in in 1762, it has been used at every coronation since that of George IV in 1821. On its roof are three cherubs representing England, Scotland and Ireland. They support models of the Royal Crown and hold the Sceptre and the Sword of State. Although its grandeur cannot be overestimated, its comfort is questionable. Our Queen described her coronation journey as "horrible" and "not very comfortable"; her great-great-grandmother, Victoria, refused to use it, complaining of the "distressing oscillation" it caused its passengers.
When our King returns to claim His kingdom, how will He travel? At His first coming, He used a donkey, both around the time of His birth and His journey to Jerusalem before He died. But of His return, Revelation 19 reads:
Now I saw heaven opened, and behold, a white horse. And He who sat on him was called Faithful and True, and in righteousness He judges and makes war. 12 His eyes were like a flame of fire, and on His head were many crowns. He had a name written that no one knew except Himself. 13 He was clothed with a robe dipped in blood, and His name is called The Word of God. 14 And the armies in heaven, clothed in fine linen, white and clean, followed Him on white horses. 15 Now out of His mouth goes a sharp sword, that with it He should strike the nations. And He Himself will rule them with a rod of iron. He Himself treads the winepress of the fierceness and wrath of Almighty God. 16 And He has on His robe and on His thigh a name written:
KING OF KINGS AND
LORD OF LORDS.
Whether the horse is literal or symbolic, I do not know. Doubtless it is a fearsome warhorse, for He comes again to make war and force our rebellious planet into submission. Its colour denotes the purity and righteousness of His mission and those of His following host. We can be fairly certain that He will not be bumping around in a cumbersome gilded carriage, nor a gorgeous burgundy Roller.