Ruby Wedding: Three Reasons I Rejoiced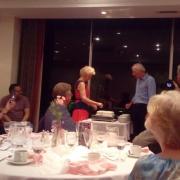 This weekend I attended a Ruby Wedding celebration in Ilkley. Unlike my own 30th birthday, for which I rather self-indulgently arranged a large party, a wedding anniversary is worth celebrating. Reaching a particular birthday, unless it's for a nonagenarian, requires no effort except breathing and eating. Keeping a marriage together for several years, in spite of the ease with which a divorce may be obtained, is a remarkable achievement. This couple have been married longer than I have lived. They may have gone through tough times, had their disagreements and encountered attractive members of the opposite sex, but still they honoured their marriage vows and fed the flames of their first love.
The second reason that I left the evening so impressed was their determination to share their commitment to Christ. Not only did they both speak of their own faith, but they invited a Christian speaker to give an engaging 15-minute talk to their friends and family. 
The third cause of my pleasure was their wish to receive no presents. The blood of my penny-pinching, eighteenth-century Yorkshire ancestors still trickles through my veins, but that wasn't the reason. When you are still enjoying life with your true love, forty years after making marriage vows, what earthly gift could possibly make you any happier?
Marriage is honourable among all, and the bed undefiled.
Hebrews 13:4