Rylstone Cross & Obelisk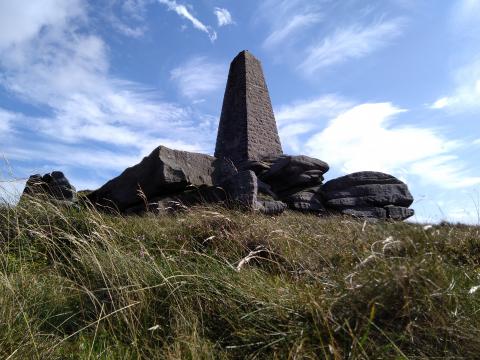 As one drives into the Yorkshire Dales from Skipton, two striking symbols of spiritual truth appear on the moors to one's right. The most northerly of the two is a large stone monument, a bold commemoration of the men of Cracoe and Rylstone parish who fell in the world wars. Although the views from there are spectacular, the sorry list of young men lost to conflict focuses the mind. War memorials are too common a feature of British towns and villages; only 52 places were spared the need to erect one. Our chapel's serves as the communion table. This baleful, grey obelisk serves as reminder of human folly and violence; though a stunning picnic spot offering panoramic views, it is a melancholic testimony to our race's fallenness and self-destruction.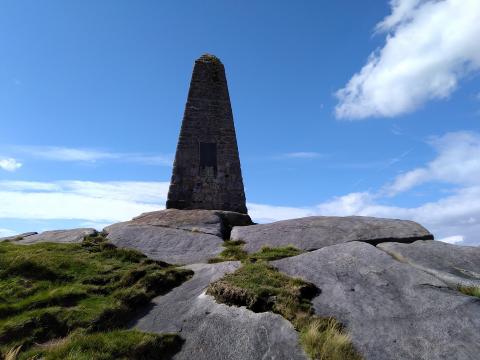 To its south lies a large stone monument erected in 1995, which replaced a wooden version from two centuries ago. It is called the Rylstone Cross. The original pillar was erected to commorate the 1814 Peace of Paris and cross-like wooden arms were added in 1887 to mark Victoria Regina's golden jubilee. In 1995, the present, solid stone version replaced the damaged wooden beam and pillar. Had a large stone cross been erected today, secularists would have furiously campaigned for its removal, I have no doubt. Good for the people of Rylstone. For the Christian, however, it means more than just replacing an older monument or a polite nod to the district's Christian past. The cross of Christ is a symbol of God's intervention in our fallen, violent world. It is the means of our salvation; the crucified Christ bore the penalty of our sinfulness, so movingly epitomised by the Rylstone Cross's northerly neighbour, further up the fell. Because of my sin, I die; because of the cross, I live.
To drivers on the busy B6265, these monuments are curiosities, briefly admired at a distance. To walkers, they're a welcome bonus on an already impressive hiking route. To the Christian, however, they are two silent yet deeply profound witnesses; one proclaiming human corruption and death, the other proclaiming a God who cares, acts, suffers, dies and lives again.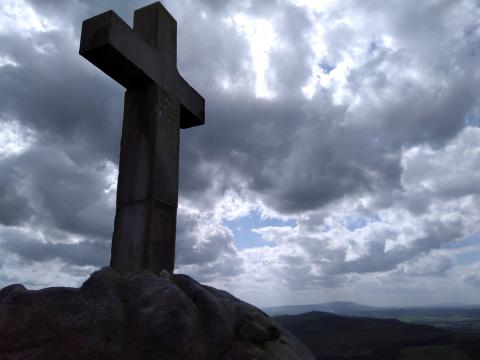 Who Himself bore our sins in His own body on the tree [ie the cross], that we, having died to sins, might live for righteousness—by whose stripes you were healed. 1 Peter 2:24