Saints George, Edmund and the Dragon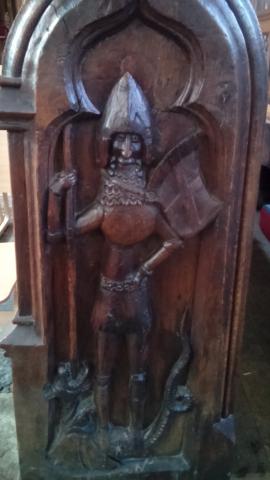 I visited Hull Minster in the summer and beheld two exquisite carvings of St George slaying the dragon, carved onto the ends of choir stalls. Judging by the open-faced celeta helmet and plate armour, I'd date them to the start of the 15th century, though the style of facial hair was more fashionable the century before. Perhaps the artist gave an old-fashioned St George the very latest in armoury. St George is England's patron saint, though as a traditional protestant I despise saint-craft and its heathen patronage. Nevertheless, nations need symbols. We have lions, bulldogs and roses, so why not a gallant man? George was not the first saint of England, gaining his prominence once Edmund had been demoted. Unlike George who is claimed by 16 other countries and was probably Turkish, Edmund was an Englishmen. According to Abbo of Fleury, he was tied to a tree and shot through with arrows for refusing to renounce his Christian faith, before eventual burial at- where else?- Bury St Edmunds. His symbol was a white dragon, in contrast to the green dragon despatched by Turkish George. George may well have killed a terrible lizard, and Edmund may well have suffered for Christ. The Bible looks forward to a time in which the great dragon, to which their stories allude, will be bound. In one sense, he is bound already; in another, his time has not yet come:
And I saw an angel come down from heaven, having the key of the bottomless pit and a great chain in his hand. And he laid hold on the dragon, that old serpent, which is the Devil, and Satan, and bound him a thousand years, And cast him into the bottomless pit, and shut him up, and set a seal upon him, that he should deceive the nations no more, till the thousand years should be fulfilled: and after that he must be loosed a little season.
(Rev 20)
There are some who do not believe in the devil, any more than they believe in George's dragon. I cannot be certain of the latter, but there is enough evil in the world to convince me of the former.
James 4:7: Submit yourselves therefore to God. Resist the devil, and he will flee from you.