Salem Chapel, Leeds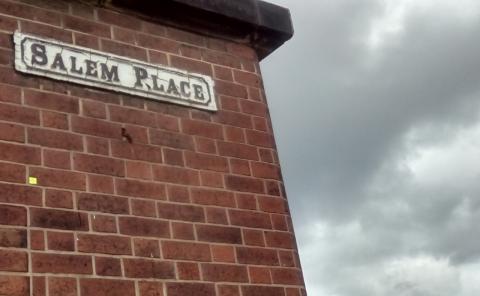 If one looks up Salem Chapel using a search engine, a variety of establishments are presented. We will be somewhere towards the bottom of the list, being a small church in a large field (read that both ways, the point is the same).
One of the other Salems is located in Leeds. In its day, it was a thriving, successful Congregational church. It was the birth place of Leeds United Football Club in 1919, though it closed its doors to worship in 2001. It is now the home of a telecommunications company as well as a conference venue. Messrs Cameron and Osborne grandly shared their feted Northern Powerhouse initiative from there in 2015. It hosts Leeds Digital Festival and Leeds International Festival and remains very much a part of civic life. One website describes it as
… a fantastic multipurpose venue for conferences, exhibitions, meetings and training days. The historic Salem Chapel combines elegance and character with cutting edge technology and features everything you would expect from a 21st century venue and more.
Yet I am saddened. Where once stood a pulpit proclaiming God's grace is now a rostrum from which whizzy presentations about corporate goals and profit margins are shared. The festivals and conferences which find it so comfortable a venue have their merits, but in a few decades' time they will be long forgotten. However, I suspect the proclamation of grace stopped long before 2001. I was living in Leeds in its last years and it never struck me as a place an evangelical Christian might feed on heaven's manna, much less the unconverted return from the pigsty. The Lord tells the Ephesian church in Revelation 2:5:
Remember therefore from where you have fallen; repent and do the first works, or else I will come to you quickly and remove your lampstand from its place—unless you repent.
When did Salem's rot begin? When did the light recede and the darkness seep under its doors? The 1890s? the 1920s? The 1950s? I suspect this lampstand was removed long before 2001 when it actually closed. Rev Chris Wood, one of its ministers, writes:
Football was but a small part of the outreach work, but seems to be the one that has provided the lasting legacy.
Would that no such damning words be said of our Salem! If we can leave no better legacy than that, may He spew us out sooner rather than later. I pray we remain faithful, and our little lampstand shines even brighter as the world's fog grows thicker.