A seal out of water
I was watching a fish in the river the other day, darting effortlessly to and fro with the merest flick of his tail, perfectly at home in his environment. Seals, too, are fine swimmers, equally at home in the water – though not, of course, in my local river!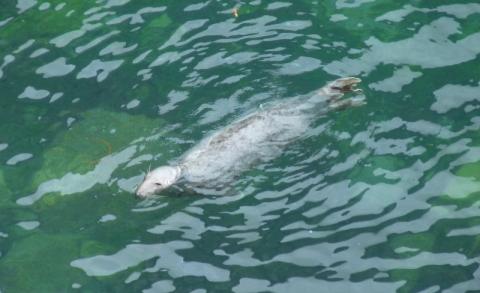 Not so, however, when they are on land. They need to come up for air, and they need to spend time on land, but they never really look as thought they are at home there. In the world, but not of it, you might say.
Sometimes they get into trouble, beached, as it were; exploring unwisely perhaps, or failing to notice the warning signs of the ebbing tide. A seal on land, too far from the water to return easily, is a sad sight – and unless it can get off at the next high tide will soon be hungry, growing weaker and more vulnerable, and may even starve.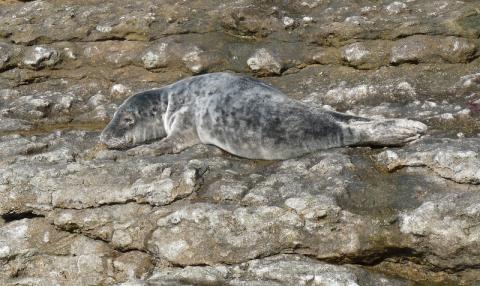 A worldly Christian, or a worldly church, is a sad sight too. Yet how easy it is, as individuals or churches, to flirt with the world, making compromises and doing things the world's way! The Lord expects His people to be different from the culture around them. Was it not His constant complaint throughout the Old Testament, and His reason for the carrying away of the nation of Israel to Assyria, that His people "went after false idols and became false; they followed the nations that were around them, concerning whom the Lord had commanded that they should not do as they did" (2 Kings 17:15)? And it all starts with our hearts.
As John Flavel puts it: 'The greatest difficulty in conversion is to win the heart to God; and the greatest difficulty after conversion is to keep the heart with God… The keeping and right managing of the heart in every condition is the great business of a Christian's life.' (emphasis original)
My son, give attention to my words; incline your ear to my sayings. Do not let them depart from your eyes; keep them in the midst of your heart; for they are life to those who find them, and health to all their flesh. Keep your heart with all diligence, for out of it spring the issues of life. (Proverbs 4:20-23)
Adulterers and adulteresses! Do you not know that friendship with the world is enmity with God? Whoever therefore wants to be a friend of the world makes himself an enemy of God. Or do you think the Scripture says in vain, "The Spirit who dwells in us yearns jealously"? (James 4:4-5)
Come, Thou Fount of every blessing,
Tune my heart to sing Thy grace;
Streams of mercy, never ceasing,
Call for songs of loudest praise.
Teach me some melodious measure,
Sung by flaming tongues above;
O the vast, the boundless treasure
Of my Lord's unchanging love!
Here I raise my Ebenezer,
Hither by Thy help I'm come,
And I hope by Thy good pleasure
Safely to arrive at home.
Jesus sought me when a stranger,
Wandering from the fold of God;
He, to rescue me from danger,
Interposed His precious blood.
O to grace how great a debtor
Daily I'm constrained to be!
Let that grace, Lord, like a fetter,
Bind my wandering heart to Thee.
Prone to wander, Lord, I feel it,
Prone to leave the God I love;
Take my heart, O take and seal it,
Seal it from Thy courts above!
Robert Robinson